Solid Reliability in Any Application
Digital audio networking has brought vastly increased system design and setup flexibility to the live sound scene. Since signal routing can be largely handled via virtual connections rather than physical connectors, cabling is reduced, power amplifier and recording systems can be easily integrated, and virtual patching provides almost unlimited re-routing freedom. Consistently superior sound quality is an advantage too.

Dante network protocol and a large selection of compatible products are the keys to flexible setup and high system reliability. RIVAGE PM/CL/QL/TF series consoles and Rio/Tio I/O units can be combined in straightforward daisy-chain systems, while more complex live recording systems or systems integrated with Nuage can be built around Dante Virtual Soundcard software.
Large Network with the combination of TWINLANe and Dante
In a RIVAGE PM7 system the CSD-R7 can be fitted with a TWINLANe or Dante-capable HY card for use with RPio622/RPio222 or Rio3224-D2/Rio1608-D2 I/O racks, respectively. Up to eight RPio622/RPio222 units can be connected to the TWINLANe card, or up to 24 Dante devices, including Rio3224-D2/Rio1608-D2 units, can be connected via a Dante network. TWINLANe and Dante networks can coexist in a RIVAGE PM7 system. All components feature dual built-in power supply modules for failsafe redundancy.
TWINLANe and Dante networks can coexist in a RIVAGE PM7 system. All components feature dual built-in power supply modules for failsafe redundancy. The CS-R10-S Control Surface originally designed for use with the RIVAGE PM10 can also be connected to a RIVAGE PM7 system to serve as a sidecar for fader expansion and/or multi-operator control.
The RIVAGE PM Editor or RIVAGE PM StageMix software application can be linked to the system for online status monitoring. High-resolution multitrack recording of up to 128 input and output tracks at 96 kHz can be accomplished via a Dante network with a Dante Accelerator PCIe card installed on an appropriate computer.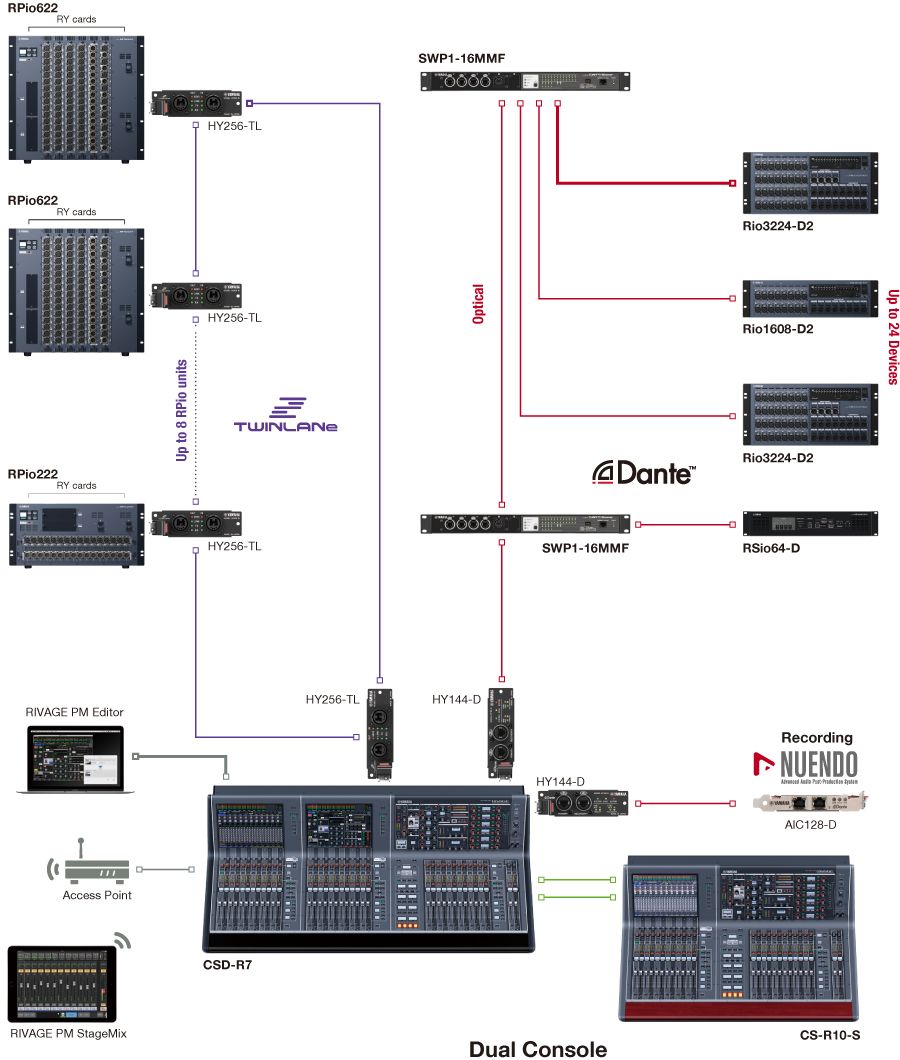 A Flexible, Reliable Star Network with CL series and Rio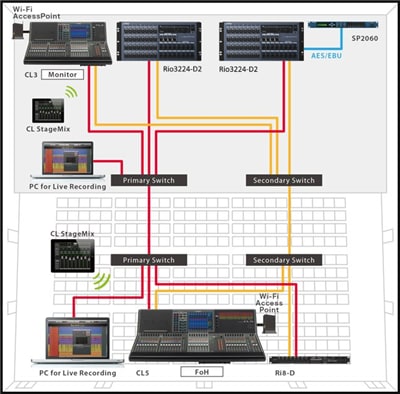 The standard Dante network uses a gigabit network switch in a star configuration. Network connections can be doubled for redundant operation so that the system remains operational even if a fault occurs in a network cable or device. If live recording is a requirement it's easy to add Dante Virtual Soundcard and Steinberg Nuendo Live running on multiple computers. And if R series I/O racks are used with CL series consoles the Gain Compensation function makes it possible for multiple CL consoles to share Rio racks.
Live Sound + Post Production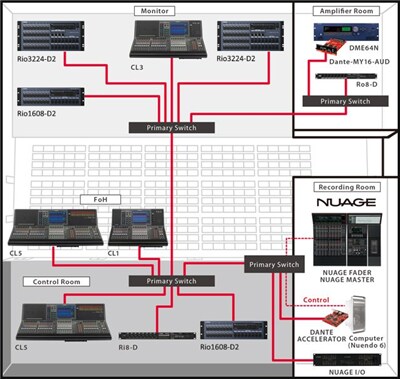 In this example a live sound system consisting of CL series consoles and R series I/O racks is linked to a Nuage Advanced Post Production System via Dante. Dante makes it convenient to implement a fully digital networked audio system like this in hall or theater complexes that include a recording room. Although multiple CL series consoles share R series I/O racks in the system shown, the Gain Compensation function ensures that no gain conflicts occur.
A Simple Daisy-chain Network with TF series and Tio1608-D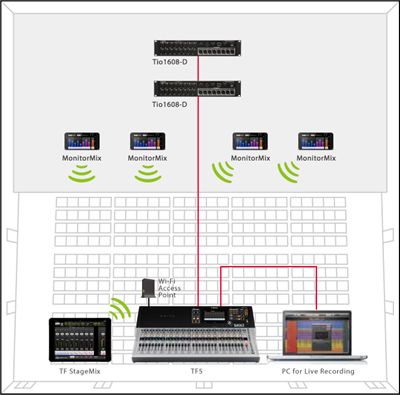 Tio1608-D allows you to easily expand a TF digital mixer system up to 40ch inputs/24ch outputs. System setup uses a Plug In & Play method. Simply connect Cat5e cable, select the device IDs and the system is ready. Remote HA control is available via Cat5e. StageMix and MonitorMix App allows wireless remote control of the console from the arena, the stage or the audience etc.