The Best Listening Position is the Best Control Position
In many cases the console position is not the optimum place to be when mixing for live sound. In fact, space and other restrictions sometimes mean that the console ends up in the worst possible spot for listening and mixing, and in some cases lack of space makes it necessary to use a smaller console. Yamaha offers a number of solutions that can aid in maximizing efficiency and sound quality in such adverse situations.

StageMix for wireless remote mixing control. Editor applications for offline or online setup via computer. Console File Converter for data compatibility between different consoles. All of these solutions significantly enhance mixing freedom and flexibility.
StageMix and Editors for Remote Control
StageMix is an iPad application that allows CL/QL, TF, M7CL, and LS9 series digital mixing console parameters to be controlled wirelessly from anywhere in the venue. From audience seating, performer positions on stage, or anywhere that gives the engineer an accurate idea of the final sound. It's a great way to set up monitor sound on stage while communicating directly with the performers, for example. Setup time is reduced, and overall sound quality is improved.
Editor applications that allow console setup from Windows or Mac computers are also available. In addition to full control of console parameters, these applications facilitate overall management of scene data and patch lists, and they make text entry for channel names, for example, faster and easier too.
Console File Converter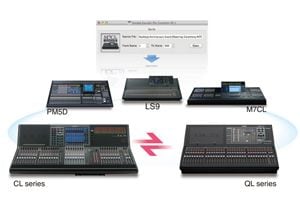 The Yamaha Console File Converter is a utility application that provides data compatibility between PM5D, M7CL, LS9, and CL/QL series digital mixing consoles. Mix data created on any of the listed consoles can be quickly and easily transferred to any other, making equipment changes effortless and providing a greater range of equipment choices for any show in any venue.
Linking to External Equipment via GPI and MIDI
All Yamaha digital mixing consoles include MIDI I/O capability that make it possible to recall scene memories or control specific faders from an external device, for example. It is also possible to connect multiple consoles via MIDI for synchronized scene recall. PM5D and CL/QL series consoles additionally feature GPI terminals that can be used for trigger I/O with a wide variety of external equipment. Fader start/stop, talkback on/off, and scene switching are just a few examples. The ability to work seamlessly with external equipment is liberating, if not essential, in many live sound situations.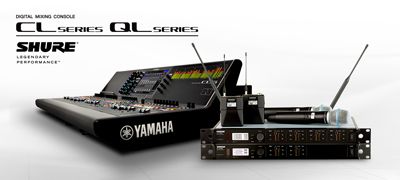 The seamless integration of Yamaha's CL/QL Series consoles with Shure's Digital Wireless - ULXD4D, ULXD4Q, AXT400, QLXD4, and ULXD4 - equips audio professionals everywhere with the intuitive tools they need to handle sound reinforcement applications of any size.
It allows monitoring of battery, RF reception strength, antenna status, frequency and audio level on the panel of CL/QL series. In addition, ULXD4D and ULXD4Q can be controlled of gain, mute and channel name assignment.

Personal monitor systems allow the performers to control the balance of the monitor sound they hear to suit their individual needs. The performers can increase or decrease the level of channels in a monitor mix provided by the monitor engineer, or create a personal mix from scratch if no monitor engineer is present. This reduces demands on both the performers and monitor engineer while providing a better, more flexible monitor environment.
Personal Monitoring with MonitorMix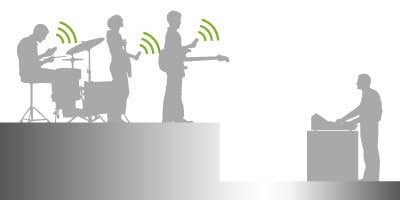 The MonitorMix application for the CL/QL/TF Series allows individual wireless monitor mixing from up to 10 devices simultaneously. Each performer can have convenient control over the MIX/AUX buses assigned to them, without having to deal with complex settings or parameters. They can also create personal Group settings for even easier adjustment: all instrument levels on just one fader, for example.
Yamaha TF Series Tutorial Video: Editors and Apps
MonitorMix can enhance your workflow, bring freedom and fun to your mix.
Personal Monitoring with AVIOM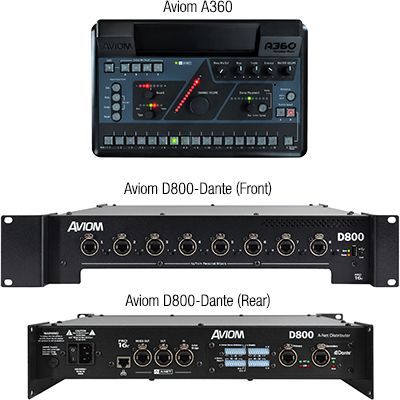 The combination with Aviom A360 and D800-Dante is a personal monitor system that can control discovery and patching from CL/QL consoles. It allows to assign up to 64 channels from Dante to the D800-Dante for distribution to the A360 personal monitor.