Solutions for Superior Live Sound and Recording
In order to achieve optimum processing with digital audio technologies that are evolving almost daily, accurate, uncolored source signals are essential. Natural sound has always been at the heart of Yamaha's design philosophy, and the ability to process and modify that sound as required, with maximum quality, is one of the core requirements of live sound as well as recording. Yamaha digital mixing consoles provide all the tools you need to refine and perfect your sound.
The Yamaha Approach
The ideal starting point for sonic creativity is pure, natural reproduction. That concept is so ingrained in the Yamaha approach to mixer design that it has become an overarching philosophy. The sound being produced on stage must be accurately captured. Only then can it be effectively colored for the desired creative impact.
The challenge begins right from the console's inputs. In order to achieve the required level of sound quality, individual components, power supply, grounding, circuit layout, mechanical construction, and countless other details of the initial input stages must be selected and designed with the utmost care. Listening evaluation becomes an important part of the development process right from this first stage as well. Changing even a single electronic component can alter the sound in unexpected ways, and the tiniest variations must be noted and evaluated as development proceeds.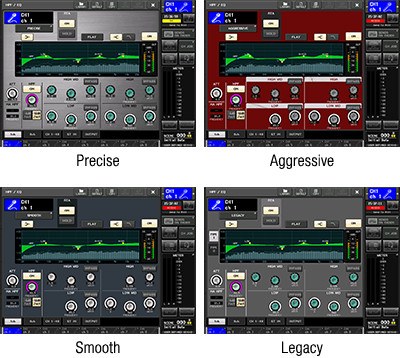 The RIVAGE PM10 and CL/QL series have chanel EQ with 4 algorithm types that include newly developed variations. The "Precise" algorithm makes it easy to target and control EQ points, the "Agressive" algorithm is designed for the most musical response, and the"Smooth" algorithm offers smooth, natural control. There's also a "Legacy" algorithm that provides the familiar feel and response of the equallizers provided industry-standard Yamaha digital consoles such as PM1D and PM5D. The "Precise" algorithm includes Q parameters on the low and high shelving fillters that allow fillter overshoot to be flexibly controlled for added musical impact.
The comprehensive selection of plug-ins available for use in the CL and QL series Premium Rack and Effect Rack, including models of in-demand classics, are highly regarded features of those consoles. The RIVAGE PM10 system includes all of those effects seamlessly merged with several new additions for a total of 50 plug-ins. Processing power has been substantially increased, allowing up to 192 instances of complex plug-ins such as the Portico 5033 or Portico 5043 to be used simultaneously. The RIVAGE PM10 plug-ins are not just showy bells and whistles. They are carefully chosen, practical effects that can be invaluable for creative processing in real-world live sound applications.

Collaboration History with Rupert Neve Designs
MY8-LAKE Processing Card
Lake processing is well established as the standard for speaker processing in live sound applications. Jointly developed by Lab.gruppen and Yamaha, the MY8-LAKE card allows advanced, intuitive Lake processing to be seamlessly integrated into Yamaha digital mixing consoles. Three processing modes are provided: 8 in/8 out Mesa mode (system EQ), 8 in/12 out Contour mode (crossover), and 4 in/4 out or 2 in/6 out combinations of the above. Mesa EQ, with it symmetrical curve, is particularly advantageous for console input processing as well.
Waves SoundGrid
Waves SoundGrid is and Ethernet based plug-in processing system developed by Waves Audio Ltd. Waves SoundGrid can be used with general-purpose servers and network switches, making it an economical way to assemble powerful systems. Since the server is dedicated to plug-in processing, multiple high-performance plug-ins can be used simultaneously with low latency. The dedicated WSG-Y16 card allows SoundGrid to be effectively integrated into Yamaha mixing systems.


From utility 2-track USB flash drive recording to serious network-fed multitrack DAW recording, Yamaha offers recording solutions that will get the job done with maximum efficiency and minimum effort. In an age where there are so many ways to put recorded live content to productive use, features like this are a significant advantage.
2-track USB Flash Memory Recording
RIVAGE PM10 digital mixing console allows direct 2-track recording to USB flash drives in WAV or MP3 format. CL/QL series and LS9 are available in MP3 format. The flash drive can be handed over to the artists after the show, or used to upload the freshly recorded performance to the web. Background music or sound effects loaded onto the flash drive (WAV*, MP3, AAC, or WMA format) can be played back too, so there's no need to carry and set up bulky playback equipment.
* RIVAGE PM10 only
Steinberg Nuendo Live for Serious Multitrack Recording
Steinberg Nuendo Live is a DAW that has been optimized for live multitrack recording. When used in combination with CL/QL series digital mixing consoles (Nuendo Live comes bundled with CL/QL consoles), Nuendo Live track names, markers, transport controls, and other parameters are linked to the console for smooth, error-free recording of once-in-a-lifetime performances. Refer to the live recording guide specific to each digital mixing console for model-specific multitrack recording instructions.
Dante Live Recording System
The simplest recording solution for a Dante network is Dante Virtual Soundcard software. With Dante Virtual Soundcard on a Windows or Mac computer, you only have to connect the computer's network port to the Dante network for direct 64-channel (max.) audio input and output capability. You can then use Steinberg Nuendo Live or a similar DAW application for top-quality multitrack recording of up to 64 tracks. If the computer has a PCIe slot you can also install a Dante Accelerator card that will allow recording of up to 128 simultaneous tracks.
The recorded tracks can be used, for example, for virtual sound checks. Dante network patching is temporarily switched so that DAW playback is routed to the console channels, allowing you to use a recording of the previous day's performance as source material for sound checks.
Maximizing live Recording Reliability
Computer performance and setup are critical factors in determining the stability and reliability of live recording. A computer with a minimum clock speed of 2 GHz and at least 4 GB of RAM installed is recommended. The hard disk used should be a 7200 RPM or higher type. If possible, a separate hard disk (i.e. other than the system hard disk) should be dedicated to audio recording and playback.
A one-hour-long monophonic 48 kHz/24 bit audio track will require approximately 500 MB of disk space. If you have 120 GB of disk space available, for example, you should be able to record 60 tracks for about four hours. A two-hour show recorded in 48-track format will require about 50 GB of hard disk space.
Multitrack recording places extremely high demands on the computer's processing capabilities. In order to ensure maximum sound quality and reliability it is best to use a computer that is specifically set up for and dedicated to recording only, with no unnecessary software or drivers installed. Unused network interfaces, including wireless, should be turned off. To further increase performance automatic indexing of the disk drive used for recording and playback should also be turned off.