AG03MK2
Live Streaming Mixer
Publicul vă așteaptă.
Cu varietatea sa de intrări și ieșiri, efecte DSP și funcția LOOPBACK, originalul AG03 s-a impus rapid ca un element de bază printre streamerii live care doresc să configureze o setare simplă, dar completă, fără a compromite calitatea sunetului. Următoarea generație AG03MK2 adaugă conectivitate mai flexibilă, inclusiv 4-pole mini I/O, extinzând gama de stiluri de streaming, precum și un nou buton de dezactivare a sunetului crucial pentru diverse aplicații de live streaming. Alături de îmbunătățiri ale construcției, designului, circuitelor interne și sunetului general, MK2 va consolida și mai mult seria AG ca standard industrial cu care vor fi comparate toate celelalte produse din această gamă.
Fast, intuitive sonic control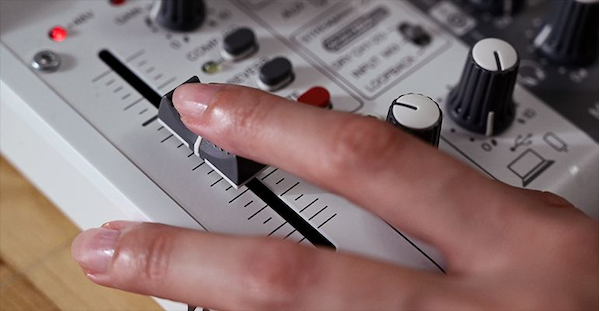 The AG03MK2 is equipped with a variety of physical controls including a large 60mm fader that helps you shape and manage the audio intuitively and quickly. The newly added mute button allows you to cut your mic input at a moment's notice if your situation demands it. Reverb and Mute can even be controlled by the optional FC5 foot switch, freeing up your hands for other tasks.
Flexible connectivity and LOOPBACK function expand your streaming capabilities
In addition to a microphone input for the condenser microphone of your choice, the AG03MK2 also features a 1/4 inch jack input for connecting a guitar or line instrument, and an upgraded 4-pole mini jack (TRRS) for smartphone input and output capabilities.
You can also use LOOPBACK function to play back the audio signal from a connected USB device to USB streaming output as with previous AG series mixers.
Improved internal circuitry for more professional sounding audio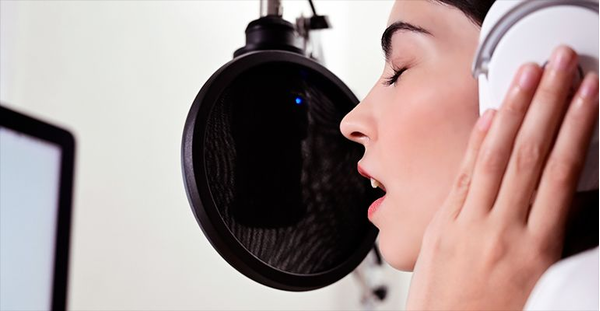 The AG03MK2 sees a marked improvement in sound quality as a result of adopting USB-C connectivity and enhanced internal circuitry that will take your streaming audio to a more professional level. The high transfer rate and power supply of USB-C provide more stable operation.
Zero-latency DSP effects to shape your sound like a pro
Regardless of your particular streaming application, you'll likely want to add some depth and dimension to the audio you're broadcasting to add professionalism to your streaming content. The AG03MK2 is equipped with optimized 1-TOUCH COMP/EQ and REVERB controls to dial in the sound that best suits your style, and an amp simulator to add authenticity and punch to your guitar input.
All these tools are processed by the internal DSP chip so there is no delay, making it particularly valuable for live streaming when real-time accuracy is crucial.
You also have the option to turn these effects off completely to capture pure, raw recordings through your favorite microphone for music/audio production that will be edited by an engineer later.
"AG Controller" provides precise control
AG Controller software allows users to easily and precisely check and configure the DSP audio processing inside the AG. Offering two modes of operation, "Simple" and "Detail", AG Controller gives users of varying music production experience detailed management of their audio from any Windows/Mac or iOS device connected to the AG03MK2 via USB.
Adapt to your surroundings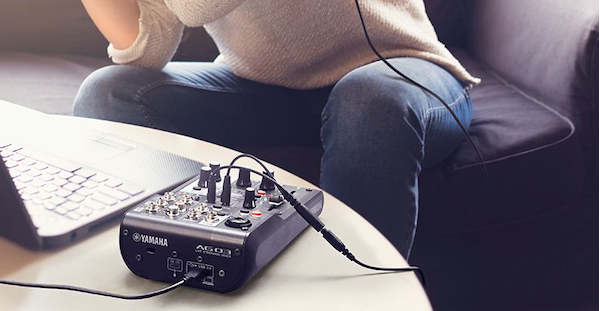 Adapt to your surroundings
The sleek, slim, and compact body of the AG03MK2 can be placed on virtually any flat surface.
By combining it with the optional BMS-10A adaptor, it can be installed on a microphone stand. It can also be connected to a mobile battery to configure a minimalistic, mobile streaming station anywhere.
*For stable operation of the AG03MK2, a power supply of DC 5V 900mA or more is required.
*BMS-10A and mobile battery are sold separately.
Powerful bundled software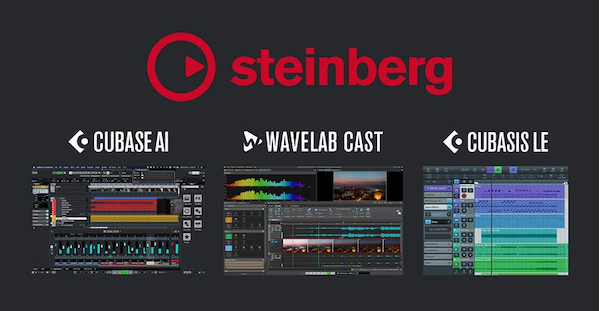 The AG03MK2 comes bundled with Cubase AI music production software, as well as WaveLab Cast for audio production and editing. The AG03MK2 is also compatible with Rec'n'Share and Cubasis LE applications for iOS devices which are available free of charge from Yamaha and Steinberg to support and inspire your audio content creation.
AG03MK2
Live Streaming Mixer
3-channel live streaming mixer cu interfață audio USB.
Fadere de 60 mm pentru microfonul CH1
+48 V phantom power pe intrarea CH1-2 pentru microfoane condensator sau cutii Dl
Intrare Hi-Z pentru chitare pe CH2
Înregistrare și redare audio de înaltă rezoluție 2-track (24 de biți, 192 kHz).
4-pole mini input/output (TRRS) pentru a susține o gamă mai largă de aplicații de streaming
4-pole mini input/output (TRRS) ideale pentru live streaming sau înregistrare
Buton Mute pentru live streaming
Control ușor și sunet profesional cu Amp Simulator și 1-TOUCH COMP/EQ, REVERB
Controller AG (Windows/Mac/iOS) pentru controlul precis al parametrilor
Suport Windows/Mac prin conexiune USB-C
Conectivitate iOS prin Apple Camera Adapter (necesită sursă externă de alimentare USB)
Android suportă 4-pole mini input/output (TRRS)
USB-C power input (5 V DC, 900 mA)
Sunt disponibile Cubase Al, WaveLab Cast, Cubasis LE și Rec'n'Share 
BMS-10A
Adaptor suport microfon
Greutate netă: 0,24 kg; 0.5lbs / Capacitate de încărcare: 5kg; 11,0 lbs
Aplicabil pentru: MG10XU, MG10X, MG10, MG06X, MG06, AG06, AG03, EMX2, S15, MSP3A, MSP3, MS101-4, MS101III, STAGEPAS 600i, STAGEPAS 400i, STAGEPAS 400i, STAGEPAS 400i, STAGEPAS06BT000
A foot switch controller for Yamaha portable PA systems and mixers.
Culorile și finisajele afișate pot diferi de cele ale produselor reale.