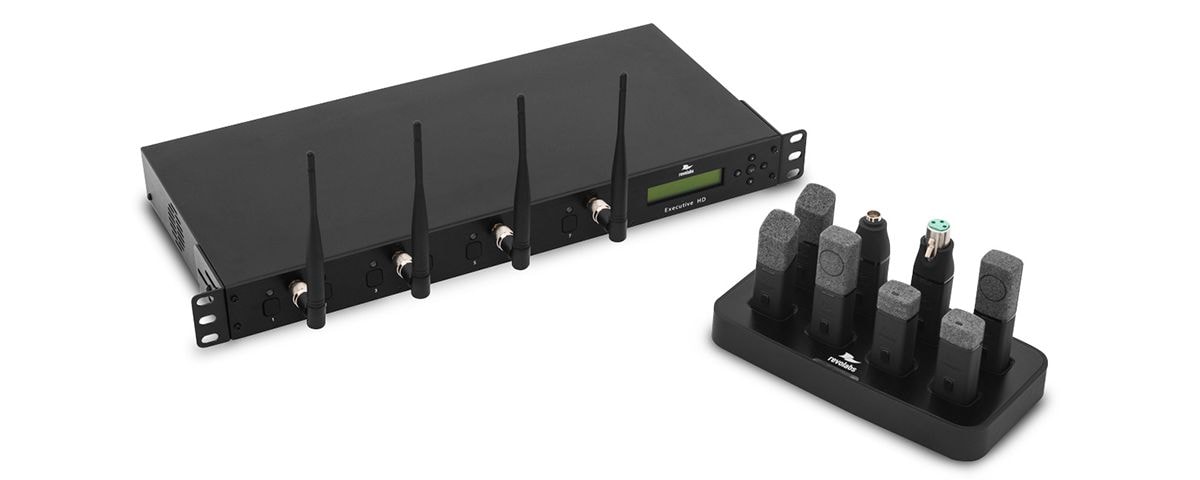 Executive HD Wireless Microphone Systems

Discontinuu
Smart and Secure
- Expandable up to 32 (Americas) or 40 (international) microphones per area
- Optional management software available for management and control
- DECT protocol protects your investment against radio frequency changes
- Compatible with a variety of HD Wireless Microphones
Superior Audio Quality
The "Designed For Speech" technology, which consists of proprietary audio processing algorithms, results in the accurate reproduction of human speech. This technology provides wideband frequency, which improves the intelligibility and presence of speech. The Executive HD and Executive HD MaxSecure have high definition audio allowing the systems to pick up the entire human voice spectrum.
Wireless Freedom
Executive HD wireless microphone systems allows enterprise users to move about their conference room and still be heard! The wireless system can also be used as audio input for voice and video calls, voice capture for boardrooms or other meetings, voice reinforcement in large auditoriums or for voice applications that require wireless freedom and flexibility.
Support for Multiple Microphones
The Executive HD and Executive HD MaxSecure wireless microphone systems support up to eight microphones per unit. In North and South America and Japan, several systems can be linked together to support 32 microphones or more in Maximum Density Mode. In Europe, Africa, Asia and Australia, five or more systems supporting 40 microphones or more can be linked together. The Executive HD System and Executive HD MaxSecure system also lets you reduce power, which allows more systems to be used in a given area.
No More Cell Phone Buzz
All Executive HD wireless microphones include the RF Armor technology, which enables the microphone to operate even when in direct contact with other wireless electronic devices known to cause unwanted audio interference, such as GSM mobile phones, smart phones, etc.
Secure
The Executive HD Max Secure systems conform to the AES-256 encryption as defined by FIPS 197 established by the US Government for its agencies. The AES-256 level has been approved by the NSA for use in "Top Secret" security environments. In addition, Revolabs Max Secure products renegotiate the encryption key automatically every 60 seconds, ensuring additional security. Even if users don't opt for the Revolabs MaxSecure product line, the Revolabs Executive HD products provide 128 bit encryption, preventing unwanted users from listening in.
Network Software
The Executive HD system includes an LCD display on the front of the Base Station for easy access to system information. There is management software available for remotely monitoring, upgrading and controlling the system through the ethernet connection. The Executive Base Station also has serial (RS-232) connectivity, which allows integration with all room control systems.