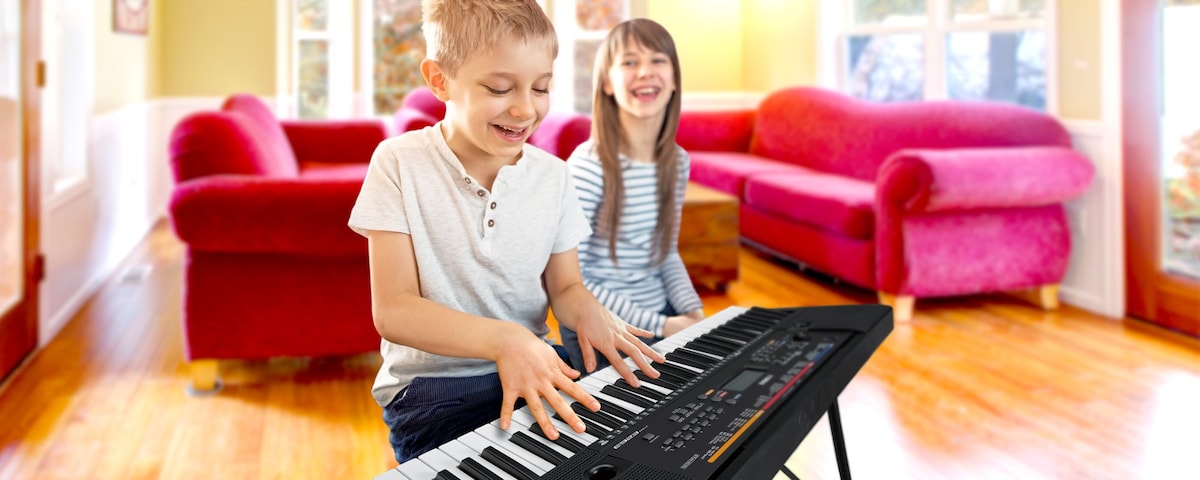 An ideal starter keyboard
Claviatura digitală portabilă Yamaha PSR-E253 dispune de o gamă extraordinară de sunete și funcții și reprezintă claviatura ideală pentru cei aflați la început de drum muzical. Utilizați funcția de învățare, Yamaha Education Suite (Y.E.S.) pentru a studia cele 112 de cântece prestabilite, sau profitați de cele 400 de Voci de instrumente și de cele 130 de Stiluri pentru a experimenta și a creea muzică. Aux Line Input transformă claviatura digitală PSR-E253 într-un sistem de amplificare pentru MP3; toate acestea la un preț foarte avantajos.
Claviatura portabilă PSR-E263, cu 61 de clape, oferă o largă varietate de sunete și funcții, fiind ideală la început de drum muzical pentru pianiștii aspiranți.
400 high-quality Voices, 130 auto accompaniment Styles
112 Songs, easy Song Book (available via web download)
Nine-step lesson function (Yamaha Education Suite)
Recording function.
AUX IN jack for connecting an external audio source
Master EQ / Ultra Wide Stereo
Modul ARP
Design compact, stilizat.
Battery operation (AAx6)
The better an instrument sounds, the more it inspires us.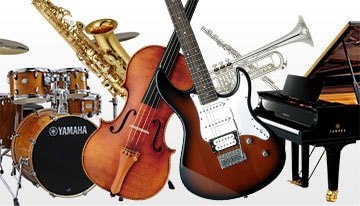 Yamaha has a proud history of manufacturing just about every kind of musical instrument. When it comes to reproducing the sound of these instruments in a keyboard, the results are detailed and high-quality.
The PSR-E263 features a comprehensive library of 400 instrument Voices that will allow you to enjoy playing any musical genre.
001 Grand Piano
010 Electric Piano1
055 Nylon & Steel Guitar
107 Stereo Strings
142 Alto Sax
203 New Age Pad
Acompaniament în timp real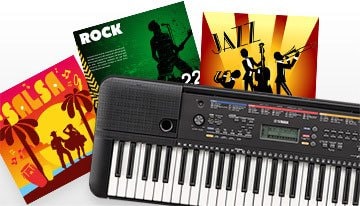 Cele 130 de Stiluri auto acompaniament oferă fundal în timp real în funcție de acordurile pe care le interpretați.
003 Cool8Beat
015 GuitarPop
027 EuroTrance
063 BossaNova
073 Salsa
075 Reggae
Compact & Portable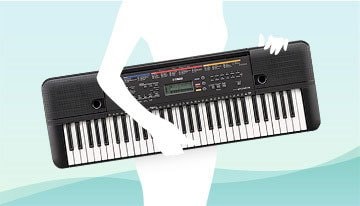 The compact, light-weight design allows you to take your instrument with you wherever you go. Battery power means you can set up and play anywhere without the need to plug it in!
On-board lessons support learning to play
3-step lesson - Listening, Timing and Waiting modes are available for each hand, or both hands together. Lessons use the on-board Songs to help build your skills. Then, use the simple recording function to capture and listen to your performance.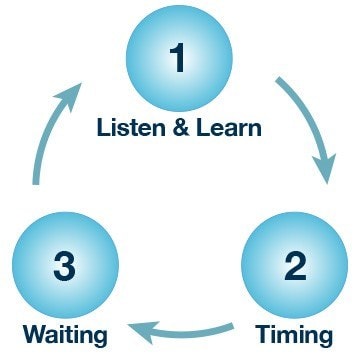 1: The model melody/chords of the part you selected will sound.
Listen to it carefully and remember it well.
2: Play the notes with the correct timing. Even if you play wrong
notes, the correct notes shown in the display will sound.
3: Play the correct notes shown on the display.
The Song pauses until you play the right note, and playback tempo
will change to match the speed at which you are playing.
Download the Song Book to read the music for the built-in Songs
The Song Book includes the musical scores of the built-in Songs.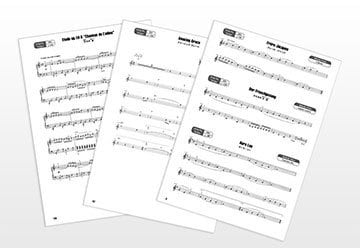 Adjust the sound with the Effects & Master EQ
9 types of Reverb effect adds the ambience to the sound, as if you are playing in a large hall, on stage...etc.. Chorus makes the Voice sound richer, warmer and more spacious.
Master EQ give the best possible sound for different reproduction systems (built-in speakers, headphones, or an external speaker system)
Reverb (Hall3) OFF
Reverb (Hall3) ON
Play with a partner
Duo mode allows two people to play together on the same instrument by creating two middle C notes.
Enjoy playing the piano with friends and family!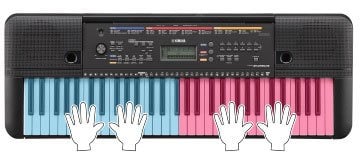 Play along with your favorite songs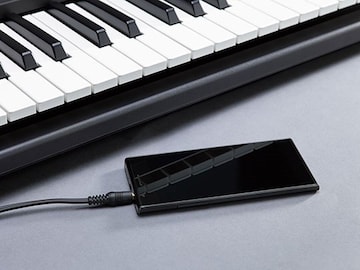 Connect your portable music player to hear your favorite music through the instrument's speakers. Play along and you feel like you've joined the band!