Yamaha Active Field Control System Enhances Artist Salon
Yamaha Active Field Control System Enhances Artist Salon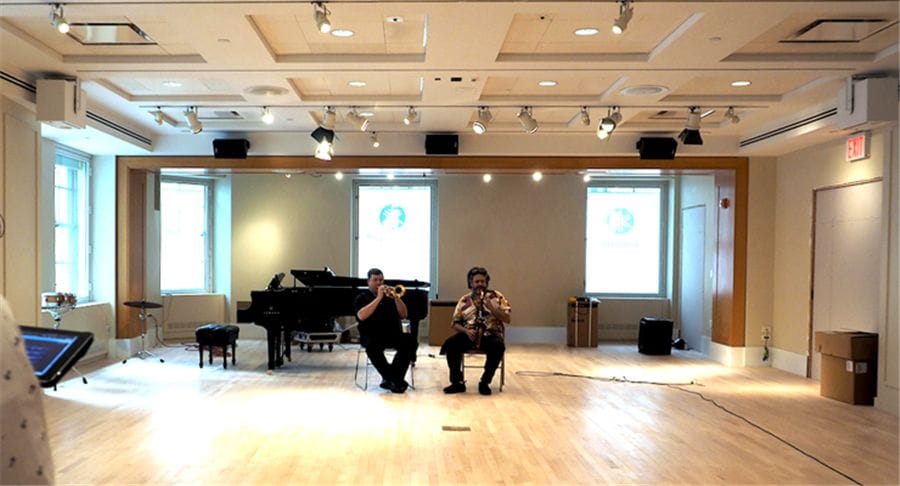 BUENA PARK, Calif.—Established in 1987 in New York City, Yamaha Artist Services, Inc. (YASI) provides a wide range of professional services exclusively for performing artists, concert venues, performing arts organizations and educational institutions. In 2005, it relocated to the heart of midtown Manhattan on 5th and 54th Street, in a historical landmarked 1925 building that originally served as Aeolian Hall, the headquarters of the Aeolian Piano Company. Occupying over 4,000 square feet, the Yamaha Artist Services Piano Salon features an elegant performance venue seating up to 150 housing a large selection of concert-ready premium pianos.
In 2005, the Piano Salon was designed with the Yamaha Active Field Control system (AFC), a state-of-the art acoustically adaptable sound environment. The sound processing technology of AFC can optimize room acoustics to suit the size of a performance, from solo to ensemble, and can recreate authentic acoustic simulations of other performing arts venues.
In June, the Yamaha Professional Audio Division Commercial Audio team upgraded the YASI AFC system replacing 12 ceiling speakers with the new VXC8 speakers, replacing the 10 wall speakers with VXS8 speakers, and adding four VX10S sub woofers. The speakers are all part of the Commercial Installation Solutions (CIS) group of products. AFC electronics were replaced and the original AFC1 system was upgraded with AFC3 processors (a special build with two FIR cards each). The team added a Ri8-D remote input mic pre-amp, CIS XMV amplifiers (Dante version), and several VXC4 ceiling speakers to the guest holding area for pre-show music or for events that may be played out in the main salon area to be heard.
The Yamaha commercial audio team also installed a new PA system consisting of three NEXO PS8 speakers and an LS400 subwoofer powered by one NXAMP4X1 with NXDT104 Dante controller card. A Yamaha MTX5-D processor was installed to facilitate integration of the PA system with the AFC speakers. The MTX5-D processor has two Shure ULX-D mic channels and inputs from the YASI 5.1 video system as well as tie lines from the NUAGE Advanced Production DAW studio currently under construction. ATK installed an AMX control system that allows the AFC operator to easily select different application configurations.
"Simple applications might involve just the wireless mics and computer video and audio inputs to wall panels, states Joe Rimstidt, AFC Systems Applications Engineer. The signals can be routed to the main PA or to the ceiling speakers of the AFC system. There can also be a background music mode where music is played through all of the AFC speakers for receptions in the piano salon and again, a mic may be used for announcements during certain events."
Rimstidt said that for more complex shows, Yamaha installed a QL1 digital console with Rio1608-D stage box to allow for more inputs which can be sent to the main NEXO PA for events on the "stage" end of the room, or a pair of Yamaha DSR12 self-powered speakers can be used for events in other areas of the room. There are also setups to allow YASI to easily demo the Remote Live applications with the renowned Disklavier Player Piano in addition to hosting a variety of events in the facility.
The YASI conference room located on a separate floor of the building was equipped with a similar CIS system including an MTX5-D processor and VXC4 ceiling speakers, and VXS10 sub.
Yamaha Active Field Control System Enhances Artist Salon