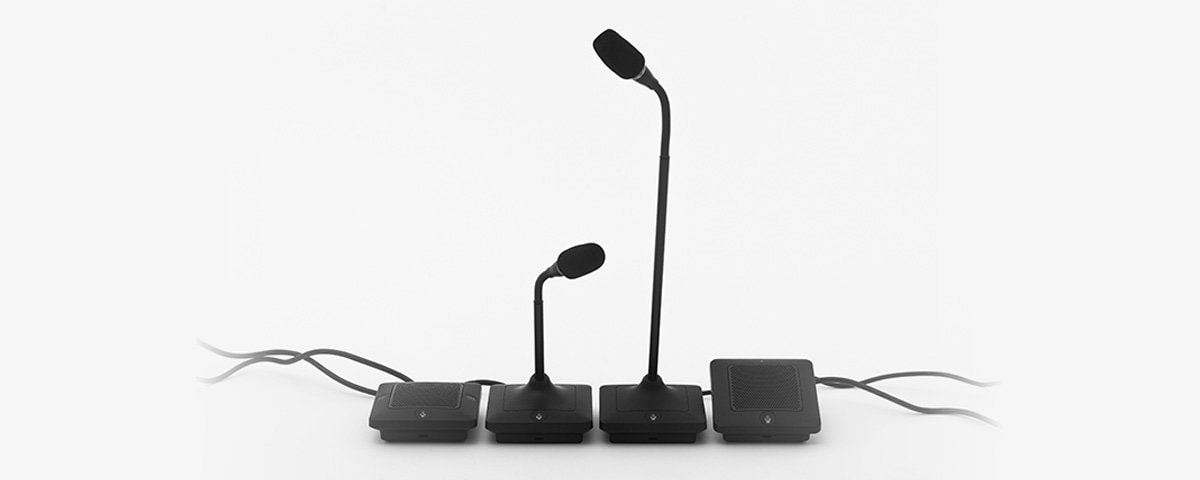 Elite Wired Microphones

Discontinuu
Tabletop & Gooseneck Wired Microphones with Local and External Control
Our wired microphone technology sets a new standard for signal-to-noise ratios and supported frequency ranges, providing unmatched audio quality for a variety of applications. Whether you're adding additional microphones to an installed audio solution or combining wired and wireless designs, these models make an optimal choice for any application requiring audio support. Plus, they're built for integration with post-processing and mixing devices, enabling you to have additional control over your conference environment's audio capabilities.
Superior Audio Quality: Flat frequency response across the supported bandwidthfor realistic sound capture.
Wide Variety of Applications: Omnidirectional, Directional (Cardioid), and Gooseneck (Cardioid) versions available supporting a wide variety of environments and applications.
Great Price, Stylish Design: Fortune 500 look at an SMB price provides a rich user experience.
Revolabs RF Armor: Protects against RF noise on the microphone and wiring.
Audio Dependability: Balanced output for increased immunity to noise over long cable runs.
Easy Installation: Microphones include 15 foot, 5-wire unterminated shielded wire.
Local Control: push-to-talk, push-to-mute, mute toggle.
External Control: button press provides falling edge (mute toggle), or low level (push-to-mute, push-to-talk); bi-color LED light controlled by ground and +3.3 to +5V.
EWM5-OM-BLK

Omnidirectional Tabletop Discontinuu
Elite Wired Microphone - 5 Wire - Omnidirectional Tabletop Microphone - Black
LED light indicator for mute status and control button with the 5-wired microphones
Unmatched performance, audio quality, and dependability
Optional permanent mounting adapter Protection against RF noise for microphone and wiring
Ability to mix and match wired and wireless microphones
EWM5-DR-BLK

Tabletop Directional Discontinuu
Elite Wired Microphone - 5 Wire - Directional Tabletop Microphone - Black
LED light indicator for mute status and control button with the 5-wired microphones
Optional permanent mounting adapter
RF Armor protection against RF noise on microphone and wiring
Ability to mix and match wired and wireless microphones
EWM5-GN6-BLK

6" Gooseneck Discontinuu
Elite Wired Microphone - 5 Wire - 6 inch Gooseneck Microphone - Black
LED indicator for mute status and control button with the 5-wired microphones
Unmatched performance, audio quality, and dependability
Optional permanent mounting adapter
Protection against RF noise for microphone and wiring
Ability to mix and match wired and wireless microphones
EWM5-GN12-BLK

12" Gooseneck Discontinuu
Elite Wired Microphone - 5 Wire - 12 inch Gooseneck Microphone - Black
LED indicator for mute status and control button with the 5-wired microphones
Unmatched performance, audio quality, and dependability
Optional permanent mounting adapter
Protection against RF noise for microphone and wiring
Ability to mix and match wired and wireless microphones