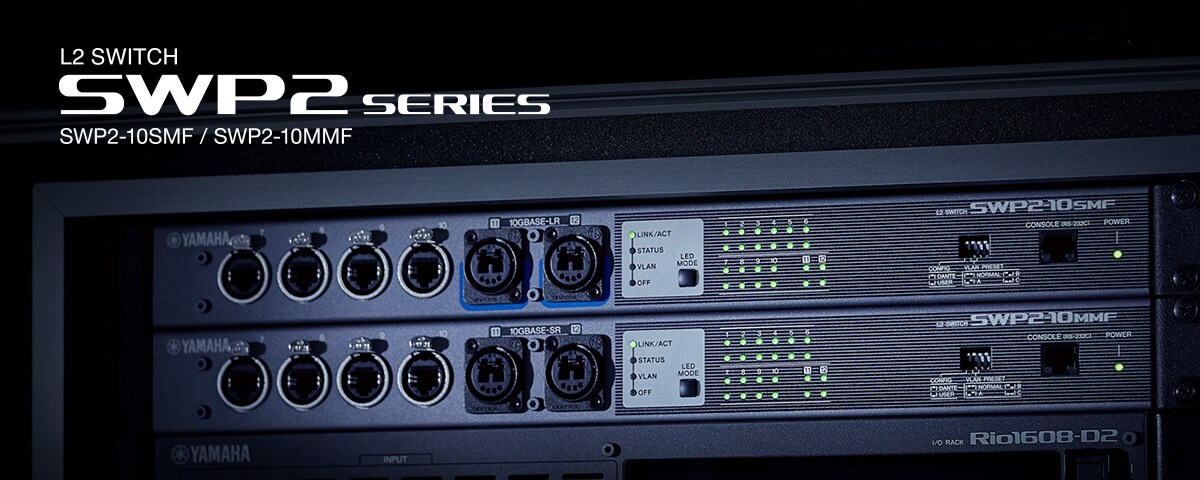 Easy Setup and Comprehensive Network Visibility

DIP Switch Dante Optimization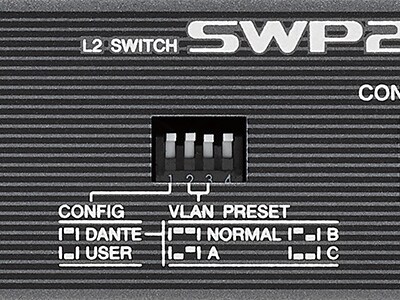 Simple Dante networks are not difficult to set up and operate, but as network complexity grows the switches used need to be optimized for Dante operation in order to achieve maximum stability. Setting up QoS, IGMP Snooping, and other parameters on an intelligent switch can be a complex task, requiring specialized knowledge that is more the domain of IT technicians than audio engineers. The SWP2 series allows a Dante optimized setup to be recalled by simply flipping one DIP switch. No expertise or training is required.
3 Preset VLAN Types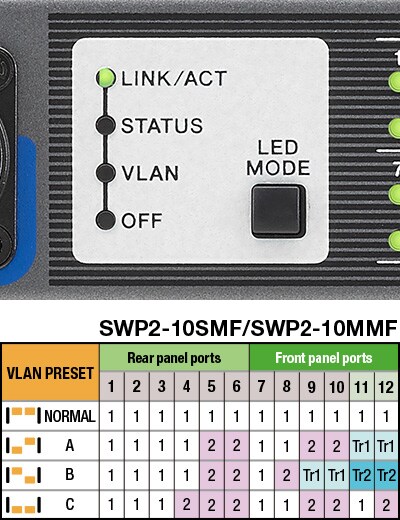 A truly efficient network should be able to handle multiple services simultaneously: Dante communication, StageMix and other smart device functions, computer software that allows digital mixer or power amplifier control, and perhaps more. But the more communication you combine on one network, the greater the chance for interference and problems. The use of virtual VLAN domains to isolate the various types of data is the ideal solution, but this type of setup also requires some IT expertise. The SWP2 series includes three VLAN presets that can be simply selected via a DIP switch. There's also a USER mode that allows fully customized VLAN setup.
Reliability and Connectivity

etherCON Connectors for Live Sound Reliability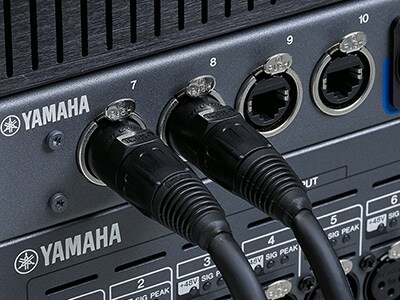 Reliability is essential in live sound applications. Nothing can be allowed to interrupt the show. Conventional network switches usually have RJ45 connectors to match the connectors on the computers to which they will be connected, but the SWP series features durable, reliable etherCON connectors that are directly compatible with the etherCON connectors on Yamaha CL/QL series consoles and other Dante capable devices.
10G uplink Optical Fiber, Network Redundancy Support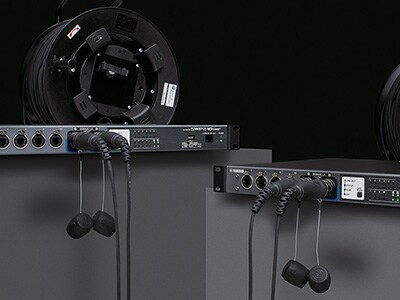 The SWP2 series equips the 10G uplink optical ports, allowing operation without fear of insufficient bandwidth even on a Dante network that is set to a sampling frequency of 96 kHz. It is a scalable solution that grows with a 96kHz Dante network system. The SWP2-10MMF includes multi-mode fiber capable opticalCON connectors and SWP2-10SMF includes single-mode fiber capable opticalCON connectors. Both multi and single-mode models allow for longer distance transmission. MMF models allow transmission over distance of up to 300 meters and SMF model allows transmission over distance of up to 10 kilometers. SWP2 seiries can be added to allow two optical fiber cables to be run for redundant connection. Spanning tree protocol (MSTP) is also supported for redundant connections.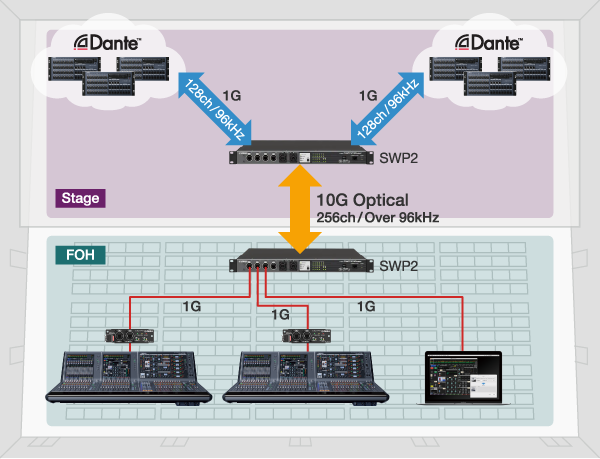 Intelligent Security Management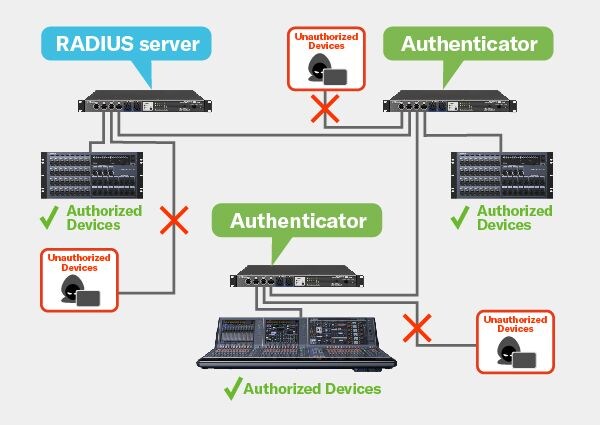 Augmenting the VLAN functionality included in the SWP2 series is built-in RADIUS server function. By setting up one switch as a RADIUS server and linking other switches to it, unauthorized network access can be effectively blocked for enhanced security, even in complex large-scale installations. Device authentication can be set up quickly and easily via a web-based GUI.
EXT DC INPUT for Power Supply Redundancy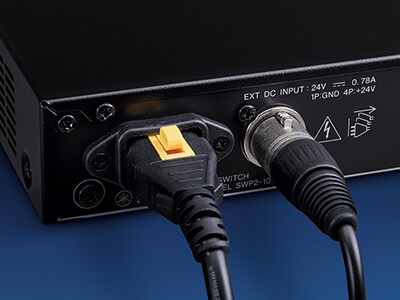 SWP series switches include an XLR-4-32 type EXT DC INPUT connector in addition to the standard AC IN connector. +24V DC supplied to the EXT DC INPUT connector provides redundant power that can keep the device running if a problem occurs in the AC supply. For further reliability the AC connector is a locking type (V-Lock) that minimizes the possibility of accidental disconnection.
Network Visibility Advantages

Effective Dante network management hinges on a range of parameters such as network traffic, switch status, and individual Dante device information. The dedicated Yamaha LAN Monitor application provides a comprehensive single-screen view of all necessary parameters when used with SWP/SWR series switches. We refer to this type of graphical overview as "network visbility." You can even take a snapshot of the normal network status and set an alarm to warn you if any of the parameters changes, so that problems can be identified and resolved quickly and easily. The Dante Controller application can also be launched from the Yamaha LAN Monitor with a single click, providing a total Dante network solution on a single computer.