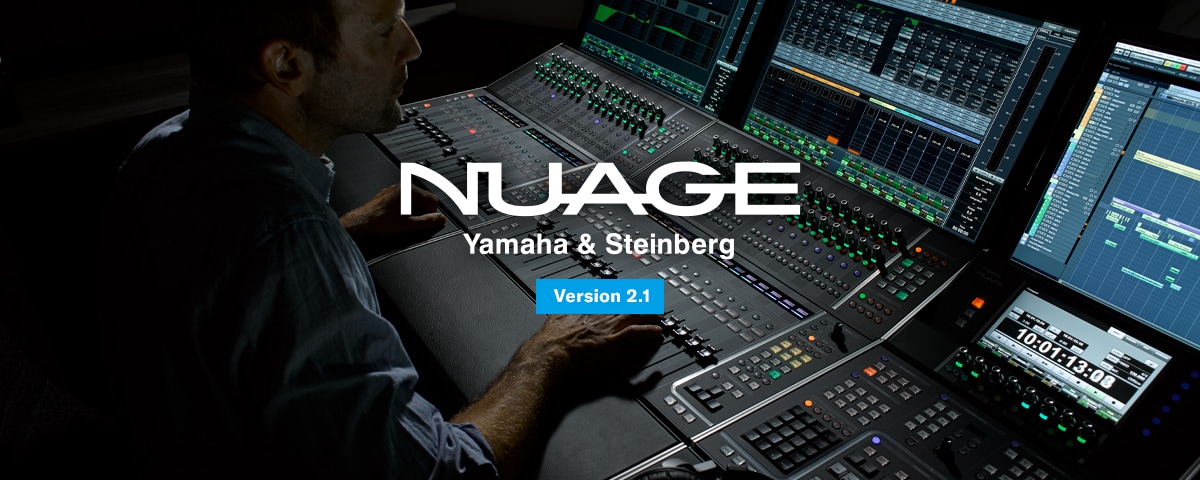 NUAGE System Components
Nuendo 6, with an all-new mixer window and expanded feature set, is the core of the Nuage Advanced Production System. Nuage includes refined Nuage Fader and Nuage Master control surfaces for intimate access to all Nuendo functions via an abundance of switches and encoders in a clear, comprehensive layout. Add a selection of extraordinary DSP-equipped Nuage I/O audio interfaces that communicate via a Dante digital audio network, plus a PCI-Express standard Dante Accelerator card for ultra low latency audio transmission with high channel counts, and you have the makings of an extremely versatile high-performance audio production system that promises unprecedented efficiency, quality, and productivity. Nuage Fader and Nuage Master units can be freely combined as required, and the three Nuage I/O models can be cascade connected to create systems accommodating a wide range of studio needs and budgets.
Unparalleled Workflow Efficiency
Unparalleled Workflow Efficiency
A sleek user interface that combines time-tested elements with thoroughly researched and proven innovations, plus comprehensive visual feedback, give Nuage components intuitive, stress-free operability that significantly enhances productivity.
A Brilliant Fusion of Hardware & Software
A Brilliant Fusion of Hardware & Software
Any standard 24" LCD monitor display* can be used to provide a smooth visual extension of the physical Nuage fader channel strips right into the Nuendo mixer window. The continuity between control surface and display achieved by the Extensive Console View concept keeps all controls and parameters in context so the operator can intuitively reach for the right fader, button, or knob while concentrating fully on the job at hand. 16 channels can be controlled at once with two encoders per channel, or all encoders can be mapped to one or two highlighted channels in the Channel Setting Mode. * Monitor display(s) are not included and must be supplied by the user.
Touch Slider for Fast Channel Access
Touch Slider for Fast Channel Access
Now that everyone is thoroughly familiar with computer trackpads, the Nuage Touch Slider will be easy. Simply slide a finger along the horizontal Touch Slider strip to shift Nuendo channels left or right in relation to the Nuage Fader channel strips, use flick gestures to quickly shift a larger range of channels, or use the "Bank Flick" feature to flick channels in groups of eight. There are also customizable channel layouts that bring important channels to the surface with just one button press. Lock your stem or master busses to the surface to access them at any time.
Precision Machined Jog Wheel
Precision Machined Jog Wheel
Precision machined from solid high-quality stainless steel stock, this jog wheel contributes to effortless editing and transport control with weight, inertia, and comfort that can make even marathon editing sessions a pleasure. Resolution is notably higher than the average editing jog wheel too, for unmatched accuracy in controlling forward and reverse playback at up to 8x speed, scrubbing, object and range selection, zoom, fades, and more.
Comprehensive, Easy-access Control Layout
Comprehensive, Easy-access Control Layout
The TRANSPORT section controls are central to most editing processes, so they're strategically located just above the jog wheel where the operator can easily manipulate both with minimum hand movement. The CONTROL ROOM section, providing direct access to Nuendo Control Room monitoring features, as well as the MONITOR SOURCE and CUE sections, are also located within easy reach above the transport controls, thoughtfully organized and grouped for fast, efficient, error-freeoperation.