FM-Xperience • New FM-X Sound-Expansion for Yamaha MONTAGE
FM-Xperience • New FM-X Sound-Expansion for Yamaha MONTAGE

FM-Xperience includes pure FM-X Sound! No AWM2 parts and no samples are used. Even the drum-sound is produced exclusively with FM-X.
FM-Xperience offeres a big range of sound types. It is not fixed to special music styles. But there is a clear trend towards innovative FM sound programming, in which the motion control and the effects of MONTAGE are integrated creatively. Conventional FM sounds in the style of the DX7 are not part of the concept, even if sometimes classic FM elements are used in a new context.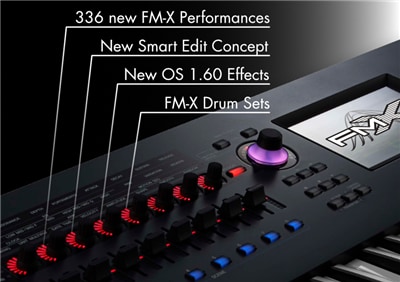 An outstanding feature of FM-Xperience is "FM-X Smart Edit". This refers to the intuitive handling of FM-X Performances with Assignable Knobs and Sliders. The Performances of the library are optimally tailored to the Smart Edit concept. In all Performances, the eight Assignable Knobs are assigned to FM parameters and effects. This allows Performances to be changed very quickly and saved as a new performance.

Here you can find more informations and demos:

Please also watch the following YouTube video:
MONTAGE FM-Xperience - Multi Part Performances, by EASY SOUNDS
Presentation of the Yamaha MONTAGE Sound-Expansion "FM-Xperience". It includes 336 pure FM-X Performances. No AWM2 and no additional samples are used. This video introduces recordings of complex Multi Part Performances.
FM-Xperience • New FM-X Sound-Expansion for Yamaha MONTAGE