Cutting-Edge Christmas - Yamaha Delivers The Sound Of V&A's Singing Tree
Cutting-Edge Christmas - Yamaha Delivers The Sound Of V&A's Singing Tree
As the world's leading museum of art, design and performance, London's V&A (Victoria and Albert Museum) always does something special for its annual Christmas tree. This year multi-Olivier Award winning set designer Es Devlin OBE has created The Singing Tree. A Yamaha audio system is trusted to discreetly deliver its unique soundtrack.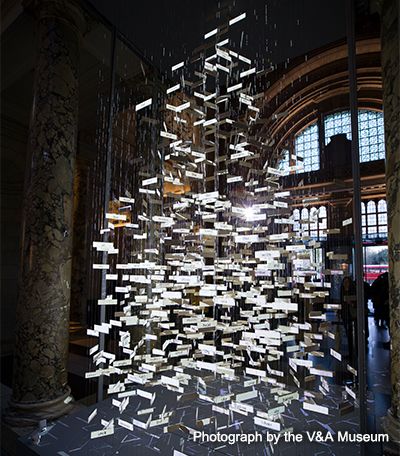 Located in the main Cromwell Road entrance of the V&A, The Singing Tree's concept is for museum visitors to create a new Christmas carol by each contributing a word. Using eight high powered projectors with advanced pixel-dividing technology, these words are projected onto a thousand tiny planks of birch plywood, threaded onto vertical wires and arranged in the familiar shape of a spruce tree.
The words are transformed into an audible interpretation by London-based music composition and sound collective res.lab, using both human and synthesised voices which evolve over a layered male and female choral soundtrack as more words are added.
The sound is managed and delivered by a Yamaha system comprising an MTX5-D matrix processor, XMV series power amplifiers, eight VXS1ML loudspeakers and two VXS3S subs. The loudspeakers are housed inside the base of the tree, maximising sound quality while minimising visual intrusion.
The audio system was designed - appropriately - by Yamaha's Karl Christmas, in partnership with res.lab, with The Singing Tree being installed over the course of one night.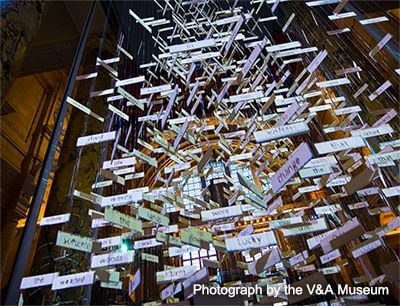 "As a very 21st century interpretation of the Christmas tree tradition, suggested by Es Devlin as inviting both humans and machines in for the festive season, it is appropriate that a cutting-edge solution is used to deliver the sound," says Karl.
"Yamaha is proud to have been asked to not only bring some festive cheer to one of London's best-known attractions, but to do it in a way that brings tradition and technology together."
Cutting-Edge Christmas - Yamaha Delivers The Sound Of V&A's Singing Tree