Biography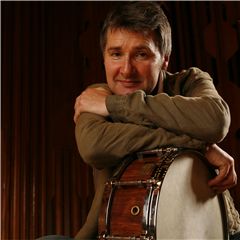 Neil Percy is the principal percussionist with the London Symphony Orchestra. With a passion for music education, he is also head of Timpani and Percussion at the Royal Academy of Music in London.
Neil is the Principal Percussionist of the London Symphony Orchestra for more than 20 years and the Head of the Timpani and Percussion Department at the Royal Academy of Music for over 12 years. During this time, Neil has worked closely with many major artists and conductors and as a soloist with Sir Colin Davis, Pierre Boulez, Steve Reich, Karl Jenkins, Ravi Shankar, Kent Nagano and Elgar Howarth.
The EMI recording of Karl Jenkins Marimba Concerto and Triple Concerto for Percussion, Flutes and Keyboards, was released recently to wide critical acclaim, as was the Grammy nominated Bartok Concerto for 2 Pianos and Percussion for Deutsche Grammophon with Pierre Boulez, Pierre-Laurent Aimard, Tamara Stefanovich, Nigel Thomas and the LSO.
In both live and studio situations, Neil has worked closely with many composers for film scores, notably John Williams, James Horner, Patrick Doyle, and Alexandre Desplat with their music for films such as Harry Potter, Star Wars, Braveheart and Twilight-New Moon.
Neil has also enjoyed working with many major pop and jazz artists including Herbie Hancock, Elvis Costello, Natalie Cole, Dave Brubeck, Joe Zawinul, Tony Bennett, Luther Vandross and Vince Mendoza.
Neil collaborated with Tim Garland in a star studded nine-piece group 'Momentum', including amongst others John Patitucci, Joe Locke and Geoffrey Keezer. Momentum returned in Autumn 2010, culminating in a joint concerto for saxophones and percussion which was premiered by Neil, Tim and the LSO in Spring 2011.
He co-leads the group 'Caixa' with Paul Edmund-Davies which plays a blend of world/jazz/latin-flavoured music. Their album 'Ball and Biscuit' received enthusiastic reviews.
As a clinician and educator Neil has given master classes at many leading conservatoires and percussion events in the UK, Europe, USA and Asia and has coached many of the worlds leading youth orchestras' including the Pacific Music Festival Orchestra and the National Youth Orchestra.