Biography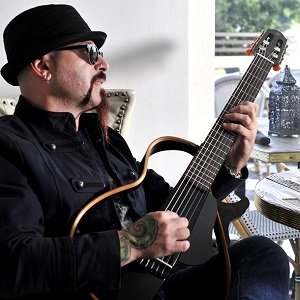 While great players are said to be cut from the proverbial cloth, Michael "Fish" Herring's particular piece must be taken from an intricate quilt, lovingly and expertly crafted over the years. Such comfort and range in style comes from total devotion and immersion in all genres of music. It is this diversity that keeps him busy with legendary artists and current sensations alike.
A Philadelphia native, Fish got his start at age 5 taking violin lessons from his grandfather, an accomplished violinist who had played with orchestras throughout the world. From his grandfather, Fish not only learned the basics of music theory and technique, but that a career in music was an attainable and respectable goal. During the few years of violin studies, Fish began developing some technique on guitar as well, and has rarely been seen without one ever since.
Fish continued his training, and his playing, while attending the prestigious Settlement Music School and the Performing Arts High School in Philadelphia. Throughout these early years, Fish was fortunate to play in Jazz Workshops and Master Classes with the late GroverWashington,Jr.and the incomparable StanleyClarke. By graduation, he had worked with many local bands and artists, gaining valuable studio and touring experience. Through these times, Fish was influenced by such a diverse blend of music and culture that continued to evolve and grow, pushing his artistry to new limits.
After several years of teaching guitar and working with several jazz, rock and funk bands in Philly, Fish began touring the world with artists from the unknown to the legendary, which eventually brought him to Los Angeles. There he sprouted new roots as a session musician while continuing to tour and perform with respected artists such as Teena Marie, Dru Hill, Johnny Gill, Prince, Christina Aguilera, Boyz II Men, Anastacia, JustinTimberlake, New Kids on the Block, Lady Antebellum, Toni Braxton, Backstreet Boys, TLC and a host of others. Along with touring, Fish was also fortunate enough to have several appearances on Saturday Night Live, TheToday Show, MTV, The Grammy Awards, The American Music Awards and TheTonight Show among many other televised performances. He has also appeared on records for artists such as Mariah Carey, Tupac, Nas, LeAnn Rimes, Siedah Garrett, Celine Dion, Daughtrey, Mary J. Blige and other superstars, as his discography continues to grow. Through it all Fish remained inspired and influenced by every experience, writing and recording music and songs that would be with him forever, eventually to share with the world.
From his first 4-track recorder to his current state-of-theart studio, Fish continues to develop his craft as a songwriter, composer and producer, leaving a trail of multi-platinum records and TV & Film soundtracks behind him. Currently residing in Los Angeles, Fish continues to write, produce and play for various artists and projects and is a member of the band Invented Like Stars.
Other Guitar & Bass Artists