Biography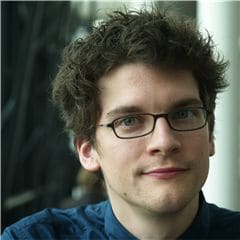 Born in Leonberg, Germany, in 1981 he had his first piano and percussion lessons at the age of 9. From 2000 until 2008 he studied with Bernhard Wulff, Taijiro Miyazaki and Pascal Pons at the University of Music in Freiburg, and in 2007 with Steven Schick at the University of California San Diego (with the Gerd Bucerius Scholarship of the "Zeit" Foundation). In addition to his percussion education, he pursued extensive studies in conducting (with Francs Travis) and composition (with Dieter Mack).
From early on in his career, Johannes Fischer received numerous prizes and scholarships as percussionist and composer, e.g. from the Jürgen-Ponto Foundation, the German Music Foundation, the Märkische Kulturkonferenz, the Musical Olympus Foundation, the German National Music Competition, the Günter Bialas International Competition for Composers, the German National Music Universities Competition, etc. Currently he was appointed member of the Hamburg Academy for the Fine Arts.
His repertoire ranges from transcribed renaissance music by composers such as Dowland or Gesualdo to the young generation of contemporary composers. A strong focus lies on the important percussion pieces of the 20th and 21st century by Globokar, Stockhausen, Xenakis, Lachenmann, N.A. Huber, Reich, Pintscher, Aperghis, Cage, Feldman, Takemitsu and many more. In addition, Johannes Fischer is intensively exploring and collecting new sound sources and tries to integrate other media like electronic sound, videos or sounding objects into his performances. He tremendously enjoys improvising together with his colleagues and musician friends.
At the moment he is working on several unique evening long solo shows for percussion featuring many diverse and colourful instruments as well as integrated media such as electronic sounds and video projection.
As a composer, most of his works are written for mixed chamber music instrumentation, either with or without electronics. He has received commissions from the Crested Butte Music Festival, Colorado, the Lucerne Festival, the Louvre in Paris, the Bavarian Radio and from several chamber music ensembles. His compositions have been performed on festivals in Europe, the US and Korea.
Since 2006 Johannes Fischer has been a lecturer at the Conservatory of Music in Lugano, Switzerland. In 2009 he was appointed professor and head of the percussion department at the Lübeck University of Music in Germany.