Biography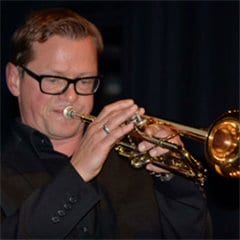 Born in 1963 in Baden-Wurttemberg, South Germany, Ingolf Burkhardt's first encounter with music was a local brass band where nine-year old Ingolf played the bugle. Four years later he discovered a new world when his music professor in the Junior High School Big Band taught him how to play the blues. At the age of 16 Ingolf got his first professional gig with a dance band, before he started playing with the locally famous and often awarded SBF Big Band (Stadt Bad Friedrichshall).
When Ingolf was nominated to play with the official Youth Big Band of his home County Baden-Württemberg (Landesjugend Big Band Baden-Württemberg) under the leadership of the American jazz trombonist and music professor Jiggs Whigham, this resulted in several LP recordings and an extensive tour in Africa. Back home Ingolf improved his skills from 1985 to 1989 at Cologne Music Conservatory with the German jazz veteran and trumpet professor Manfred Schoof as well as Jiggs Whigham. During this period Ingolf's professional career took off, playing with the WDR Big Band (West German Radio Big Band), the official Big Band of the EU, Chaka Khan, Peter Herbolzheimer's RC&B and Trio Rio. Furthermore, Ingolf played first trumpet with the musical "Starlight Express" in Bochum, Germany, for two years.
Playing with Bujazzo, the national youth jazz orchestra of West Germany in 1987, Ingolf first met American trumpet legend Bobby Shew. This was not only the beginning of a friendship but also a successful musical collaboration. It was Shew who encouraged Ingolf to become a trumpet teacher himself, which resulted in a professorship at the Music Conservatory in Hamburg from 2001 to 2008. Since 1990 Ingolf is a regular band member of the NDR Big Band (North German Radio). There he had the pleasure of playing with a long list of jazz greats such as Lionel Hampton, Abdullah Ibrahim, Al Jarreau, Oscar Brown Jr., Pee Wee Ellis, Bobby McFerrin and Quincy Jones.
As one of the most requested studio musicians in Germany, Ingolf has worked amongst many others with James Last, Mr. President, Dieter Bohlen, Christina Stürmer and Vicky Leandros, has recorded countless jingles and albums with various formations – and obviously stroke the right tone! The renowned jazz critics Mike Hennessey about the CD "Jazzed Friends":  "...refreshing vitality ... musicians who thoroughly enjoy what they are doing... spirited, technically assured, rhythmically dynamic, musically adventurous...". "Just B4" was a similar hit featuring Piano genius Vladislav Dendecki, American bass player Paul Imm, and Britain's #1 studio & session drummer Ian Thomas.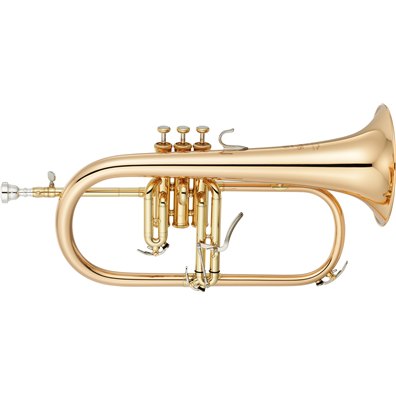 Bell: Gold brass, Finish: Clear lacquer