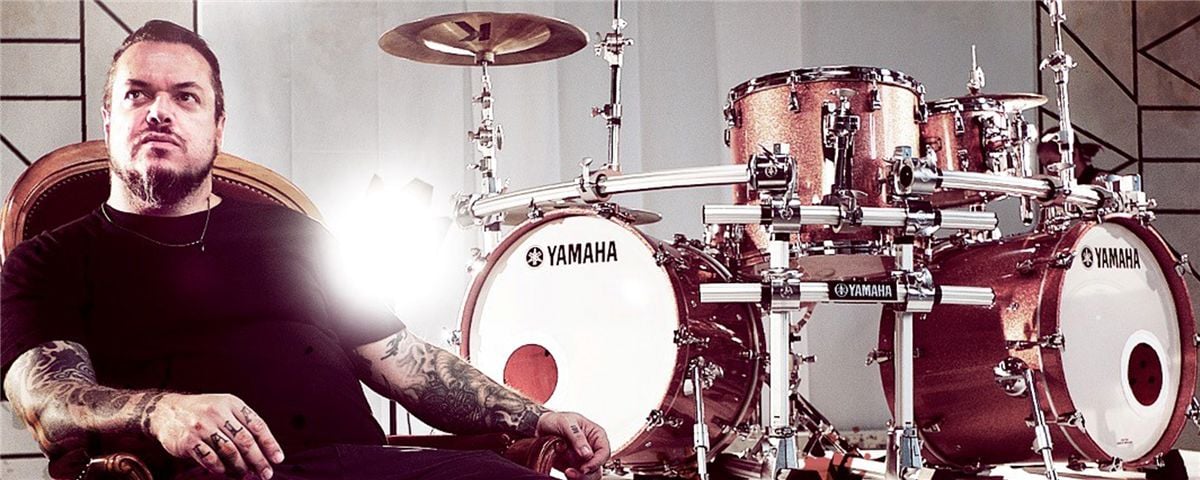 IGGOR CAVALERA joins Yamaha Drums.
IGGOR CAVALERA joins Yamaha Drums.
Iggor Cavalera rocketed to fame as one of the most influential drummers from the mid 80´s Thrash Metal scene, when his aggressive, energetic playing on the first SEPULTURA records hit the taste of fans worldwide, leading the young band from Brazil to becoming pioneers of this genre.
Following the band´s raw energetic first releases, their follow-up records "Chaos A.D" and "Roots" revealed Iggor´s unique tribal rhythms, that marked his drumming style and contributed to the band´s worldwide success, making SEPULTURA one of the era´s few bands that managed to increase its worldwide fan base unimpressed by the many trends that came and went around them.
While to date Iggor stays true to his thrash roots as the drummer in CAVALERA CONSPIRACY he has also opened up to new musical directions. Currently he is one half of the DJ duo MIXHELL, a project he founded with his wife Laima Leyton, as well as being 1 of 3 live drummers in SOULWAX, the Belgian dancefloor kings known for their acclaimed live shows. For his various projects, Iggor has decided to make Yamaha Drums his instrument of choice.
"One of my first drum kits was a Yamaha, back in the 80´s and it was one of my favourite sounds. So from that moment, I always had a special place for Yamaha" remembers Iggor in our interview.
In search of a versatile kit that suits his various projects, Iggor will make the Yamaha Absolute Hybrid Maple kit his sound for future shows and recordings. Solid manufacturing, warm & punchy tone with lots of sustain, it delivers the natural drum sound Iggor has been searching for: "For me that´s what it is about. I don´t wanna have to push tons of effects to make my drums sound good."
With a Pink Champagne Sparkle finish and his lowrider-inspired set-up, this kit will also be an optical eyecatcher on stages worldwide.
Iggor Cavalera plays the following Yamaha gear:
Yamaha Absolute Hybrid Maple (Pink Champagne Sparkle Finish)

2x 20" x 16" Bass Drum (AMB2016PCS)
1x 10" x 07" Rack Tom (AMT1007PCS)
1x 16" x 14" Rack Tom (AMT1614PCS)
1x 18" x 16" Floor Tom (AMF1816PCS)
1x 14" x 6" Snare Drum (AMS1460PCS)

Hardware:

2x HXR2LII
2x HXREXII
2x FP9500C Pedals
1x SS950 Snare Stand
1x HS1200D HiHat
1x DS950 Drum Stool
3x CS755A Boom Arms