Biography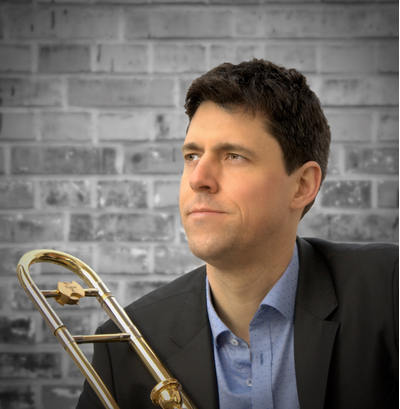 Simon Harrer, born 1978 in Baden-Württemberg, studied trombone in Berlin with Jiggs Whigham and Sören Fischer. Since completing his jazz studies in Berlin, he has had engagements and concerts in various formations throughout Europe (Rias Bigband, Ed Partyka Jazz Orchestra, Till Brönner Orchestra, Andrej Hermlin's Swing Dance Orchestra, heavytones, Reinhold Schmölzer orchestra • ra • conteur, hr-Bigband, Berlin Jazz Orchestra, Thärichens Tentett, Stefan Schulze Large Ensemble, German Opera Big Band, Berlin Art Orchestra, Ralf Hesse Big Band, Mi Solar, Hans Otto Theater Potsdam, and much more
You can listen to him on albums by 2Raumwohnung, Seeed, Andreas Kümmert, Manfred Krug, Babylon Berlin and Peter Fox and he plays in the live band of "The Voice of Germany" with Lillo Scrimali. Engagements with Max Herre, Till Brönner, Sarah Connor, Xavier Naidoo and others.
Since 2004, Simon Harrer has been a regular lecturer at the State Youth Jazz Orchestras Berlin, Brandenburg, Saxony, Thuringia, Hamburg and Saxony-Anhalt, the Jazzinstitut Berlin and the International Workshop for Big Bands in Neubrandenburg. Since 2014 he is regular invited as adjudicator at Jugend-Musiziert and the Felix Mendelssohn Bartholdy Hochschulwettbewerb.
From 2006-2015 he was a lecturer for jazz trombone at the University of Music and Performing Arts in Leipzig, from 2008 to 2011 he was director of the University Big Band Magdeburg and from 2010-2012 he was a lecturer at the University of Popular Arts in Berlin. In 2013 he held a short guest professorship in Graz.
Since 2014 he is professor for jazz trombone at the Academy of Music Carl Maria von Weber Dresden and manages, among other things, the big band of the university.