Biography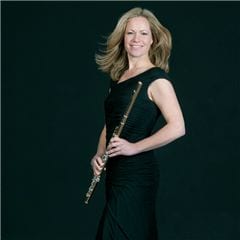 She began her flute studies with Prof. András Adorján at the Cologne University of Music and Dance. The study at the Conservatoire national supérieur de musique in Paris was given a new impetus by Prof. Pierre-Yves Artaud. In the soloist class of Prof. Andrea Lieberknecht, she graduated from the Hochschule für Musik und Theater Hannover.
After completing her education at the Academy Academy of the Staatskapelle Berlin under Daniel Barenboim, Britta Jacobs joined the Staatsstheater in Kassel as Deputy Solo Flutist. Three years later, she joined the SWR Rundfunkorchester Kaiserslautern as a solo flutist. Since 2007 she plays in the same function at the German Radio Philharmonic Saarbrücken Kaiserslautern.
Britta Jacobs has worked with such conductors as Vladimir Ashkenazy, Daniel Barenboim, Michael Gielen, Péter Eötvös, Philippe Jordan, Zubin Mehta, Stanisław Skrowaczewski and Kent Nagano, as well as with the Radio Orchestra of the NDR Hannover, the Frankfurt Opera House, the Berlin Symphony Orchestra and The orchestra of the Munich State Opera.
As an educator she taught among others at the Academy of Music Saar and at the Orchesterzentrum NRW Dortmund. She is a regular jury member of Jugend Musiziert and the Conservatoire de Luxembourg.