ZG01
Mixer audio game streaming
Make It Your World.
ZG01 este primul mixer audio Yamaha, conceput special pentru chat-ul vocal al jocurilor și streamingul de jocuri.
Acest nou mixer vă permite să adaptați sunetul jocului, vocea proprie și vocea persoanei cu care conversați la propriul mediu de redare, oferind simultan semnalul audio ideal atât partenerului de chat, cât și audienței către care transmiteți în flux.
ZG01 oferă, de asemenea, funcționare audio simplă, cu controale fizice atent selectate, o varietate de efecte DSP, cum ar fi un schimbător de voce chat și procesare autentică a sunetului surround prin căști stereo, precum și porturi HDMI 2-in/1-out care funcționează, de asemenea, ca un comutator HDMI și un adaptor de conversie. ZG01 oferă un nivel mai ridicat de sunet captivant și un mediu de joc mai confortabil.
Simple, intuitive control for gaming and game streaming
The ZG01's physical controls designed for gaming, voice chat, as well as for streaming, provide simple, intuitive management of all your audio signals without detracting from your overall gaming experience.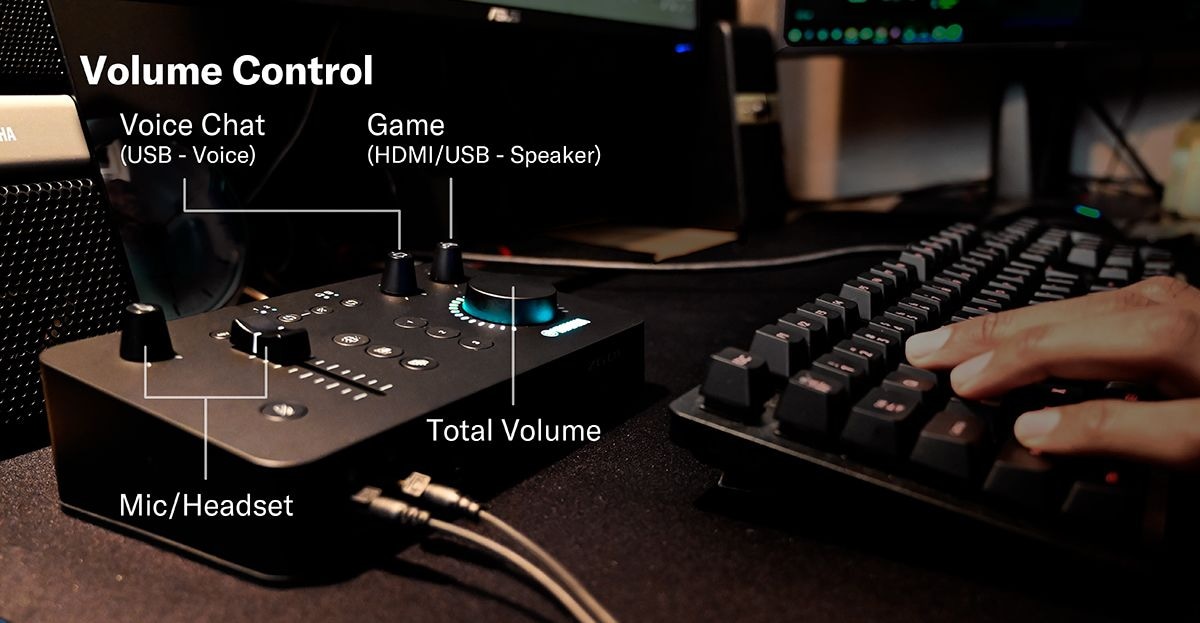 ZG sound processing for ultimate immersion
ZG SURROUND: Experience virtual surround sound for stunning authenticity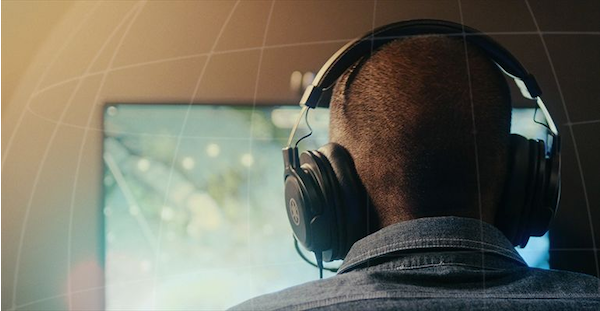 Yamaha's new proprietary "ViReal™ technologies for headphones" has been further optimized for gaming to maximize your stereo headphones' 3D sound quality. Enjoy powerful game sound with unprecedented realism.
FOCUS MODE/EQ: Hone your game audio to enhance immersion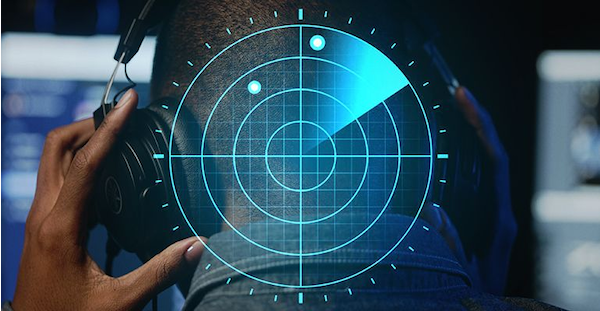 FOCUS MODE/EQ can suppress the sound of your own character's voice or emphasizes environmental sounds of the game audio. The settings can be configured to suit a variety of game titles, scenes, and playing styles. For example, you can focus on the sound of your opponent's footsteps for a more authentic experience.
3D CHAT SPACE: Clearly distinguish between game and chat audio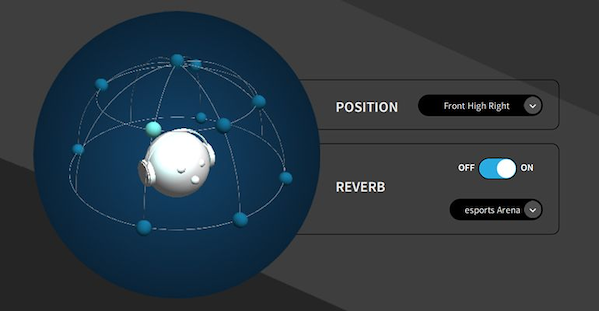 With 3D CHAT SPACE you will feel as if you were playing a game in the same room with your friends. By placing the other party's voice in a virtual 3D-space, it avoids overlap with game audio and voice chat, letting you hear all your audio signals clearly and comfortably.
Share your surround sound experience with your audience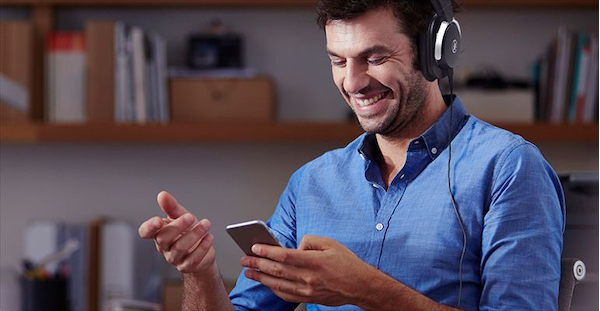 Your multi-channel game audio is converted and processed by the ZG to reproduce a surround sound experience that you can stream to your listeners.
Even if they are not ZG users, as long as they listen with stereo headphones, you can deliver the same immersive authenticity to your audience.
Powerful DSP effects to enhance your gaming experience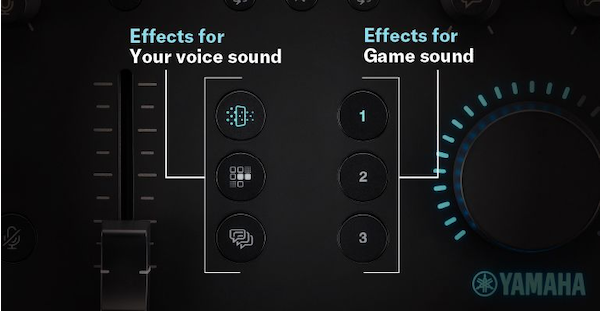 Customize your voice and game audio with zero-latency DSP processing to adapt to various virtual environments during gameplay.
- For your voice: Voice changer, Transceiver/Radio voice effect, masking beep sound, and 1-Touch Echo
- For game audio: ZG SURROUND and FOCUS MODE/EQ allow sound customization to suit your taste and gaming scene
*Presets can be assigned to the three physical buttons for instant recall
ZG dedicated driver allows individual signals to be assigned to multiple client software applications
When you install the dedicated driver in your computer (Windows/Mac), the ZG01 is recognized as two virtual devices, and can send and receive two audio channels for different purposes. For example, you can set up a voice chat application to send only your voice audio, as well as a streaming application to broadcast your game and voice chat audio.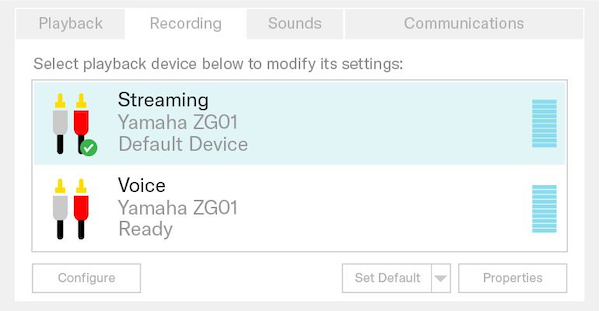 Input to PC:
- Streaming: This channel is for sending the game and voice chat audio input from the ZG01 to your computer. Assign this channel to the audio input of the streaming application on your computer.
- Voice: This channel is for sending your voice input from your mic or headset to your computer. Assign this channel to the audio input of the voice chat application running on your computer.
Output from PC:
- Speakers: This channel is for sending audio from your computer to the ZG. If you are playing PC games, assign this channel as the audio output. The game knob on the ZG01 can be used as a game volume controller.
- Voice: This is the channel for voice chat. If you are using a voice chat application running on your computer, assign this channel to the audio output of it. The voice chat knob on the ZG01 can be used as a voice chat volume controller.
Practical, comprehensive connectivity for gamers
The ZG01 is equipped with an HDMI port for connecting consumer game consoles, as well as other ports necessary for building a more extensive gaming sound environment. The integrated features allow you to do away with the often complicated and cumbersome wiring or adapters that peripheral devices often necessitate.
- HDMI port: The 2-in/1-out HDMI ports allow direct connection to consumer game consoles, and can also function as a 2 input HDMI switcher and HDMI conversion adapter with audio extraction. (Audio out: 2ch 24-bit/48kHz fixed, Video signal: Pass-through)
*The ZG01 doesn't have a video capture function. Therefore game streaming live video will require a compatible external video capture device.
- Flexible audio input and output: The audio I/O jack provides flexibility for connecting the microphone, headphones, headset and desktop speakers of your choice.
- USB-C x 2: Ensures stable signal transfer and power supply. (USB2.0)
- Integrated terminal ports on the back: All connections that are rarely changed are concentrated on the rear panel, allowing for smart, unobtrusive wiring.
"ZG Controller" dedicated software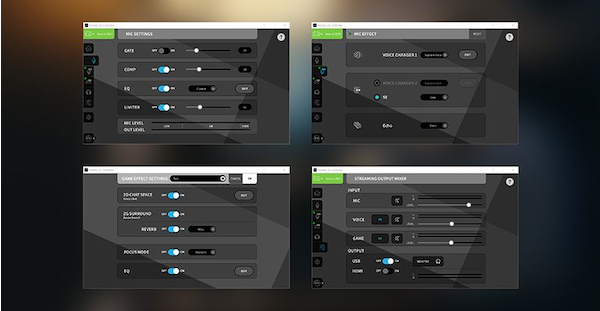 The ZG01's dedicated software application (Windows/Mac), ZG Controller, allows you to select and edit detailed volume and effect settings and assign them to presets for your game audio and headphones.
These presets can also be exported and imported as configuration files that will allow you to share them with friends that also use ZG consoles.
ZG01
Mixer audio game streaming
Un mixer audio game streaming care oferă experiență de joc extrem de captivantă.
Control intuitiv al volumului, conceput pentru jucători și streamer de jocuri
Înregistrare și redare audio USB de înaltă rezoluție (24 de biți, 48 kHz).
Control flexibil al volumului cu drivere dedicate, recunoscute de Windows/Mac ca dispozitive virtuale multiple
Procesarea sunetului ZG (ZG SURROUND, FOCUS MODE/EQ, 3D CHAT SPACE, Voice changer, Transceiver/Radio voice effect... și multe altele)
Buton de efect x 6 (3 pentru efecte chat vocal, 3 pentru efecte game sound)
Port de conectare HDMI x 3 (2-in/1-out, Audio out: 2 canale 24 biți/48 kHz fix, semnal Video: Pass-through)
Intrare MIC pentru microfoane cu condensator cu alimentare phantom power +48 și buton mute
Intrări și ieșiri independente pentru căști/microfon cu căști sau difuzoare
Mini intrare/ieșire cu 4 poli (TRRS) pentru smartphone-uri
Controler ZG (Windows/Mac) pentru control precis al parametrilor
Suport Windows/Mac prin conexiune USB-C
iOS și Android acceptate de mini intrare/ieșire cu 4 poli (TRRS)
Intrare de alimentare USB-C (5 V DC, 1,5 A)
Culorile și finisajele afișate pot diferi de cele ale produselor reale.