Începeți încet Visați mult
Imaginați-vă că puteți interpreta la un instrument chiar acum.
Strike out on the drums.
Scale up on the piano. Blast away and play.
It's fun to practice your most loved tracks by the artists you download. Give performances new energy and drive. Make music, make friends and make a bigger noise in the world.
The Yamaha student instrument range is designed for small hands, helping beginners and intermediate players to master their sound.
Start small, dream big...
who inspires you to make music?
Aspire to learn
Benefits of learning an instrument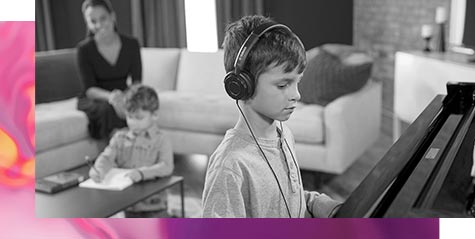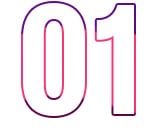 Music on the mind
Did you know music really is food for thought? Extensive studies have proven that the comprehension of musical language can benefit a child's overall mental development. Music increases memory skills, can reduce stress and even be an exam boost. Figures show that students who study music are more likely to achieve better grades in school.
Good for maths
Music notes may not look like maths equations, but there is a connection. Reading music has been proven to help to understand and solve mathematical problems. "When children learn rhythm, they are learning ratios, fractions and proportions," said Professor Gordon Shaw from the University of California. Music can wire a child's brain to better understand maths.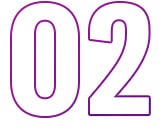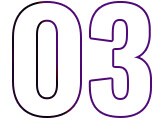 Universal language
There is a link between reading music and the next chapter in a book. Learning and playing music requires constant understanding. Children and teens need to identify a note and recognise each pitch, how long to hold it, what finger to use and how loudly to play. Should the note be short and crisp, or a smooth transition? Reading music can bring a sensitivity to understanding literature.
All in it together
One of the joys of learning music is the possibility of being in a band. This can bolster teamwork skills with every rehearsal and practice session. Working towards a single goal helps to enhance social skills "Children who take part in music develop higher levels of social cohesion," says Dr. Alexandra Lamont, Lecturer in the Psychology of Music at the University of Keele.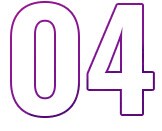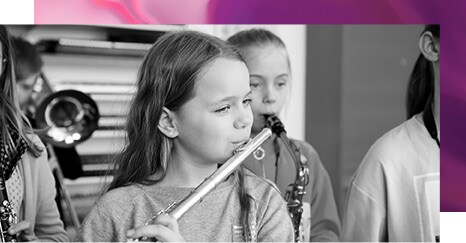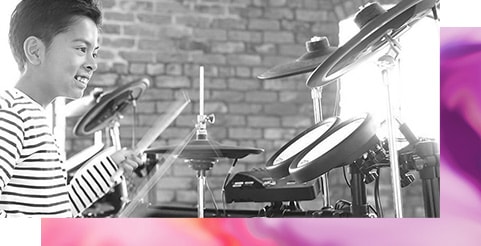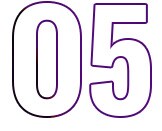 Express yourself
Music is all about creative expression and coordination. Playing a piece of music which really moves them, or creating their own arrangement, allows children the freedom to express themselves. It has the power to boost confidence and unleash complex feelings. Finding their own genre of music or writing their own original score is a great outlet for teenagers finding their place in the world.
INSTRUMENTS FOR BEGINNERS
AND INTERMEDIATE STUDENTS