Yamaha Adds Flagship Clavinova CLP-695GP Grand to Market Leading CLP-600 Series Digital Pianos
Yamaha Adds Flagship Clavinova CLP-695GP Grand to Market Leading CLP-600 Series Digital Pianos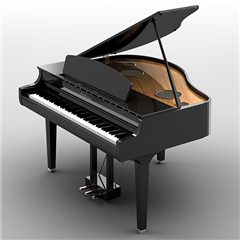 Yamaha introduced the CLP-695GP, the finest sounding, most advanced CLP Clavinova yet, and new flagship to the company's successful CLP-600 Series of digital piano
The CLP-695GP, which combines luxury, state-of-the-art technology and unprecedented sound quality, is housed in an elegant grand piano cabinet designed to fill the room with sound. It comes in a choice of two gorgeous finishes, a beautiful polished ebony or a stunning polished white.
Yamaha Grand Touch keyboard action, which features individual key counterweights like those on an acoustic grand, gives the CLP-695GP an authentic playing feel that facilitates expressive playing. From the quietest to the loudest passages, the piano's dynamic response is consistent and accurate.
The CLP-695GP comes loaded with two meticulously sampled grand pianos, the Yamaha CFX and the Bösendorfer Imperial, which provide it with authentic sound to go along with its genuine grand piano look and feel. Yamaha Virtual Resonance Modeling technology even emulates the resonance of the soundboard, rim and frame of a grand piano.
Like the other CLP-600-Series instruments, the CLP-695GP also features a set of binaural samples, recorded from a CFX grand piano using specialized microphones to capture locational information and other nuances discerned by the human ear. These samples were created specifically for headphone listening, and provide the user with a compelling, immersive piano experience.
"The market has been asking Yamaha for a flagship CLP grand piano for years, and we have answered." said Dane Madsen, marketing manager, Digital Pianos, Yamaha Corporation of America. "Our goal with the CLP-695GP was to provide the customer with an authentic grand piano experience combined with the benefits of a modern digital instrument, and we're delighted with how it turned out. Not only will this piano be a gorgeous centerpiece for a piano-playing household, but it's also an exquisite speaker system for your favorite wireless music player."
The CLP-695GP comes equipped with onboard Bluetooth® audio capabilities, allowing users to stream music from a mobile device through the piano's high-quality 300W sound system, and you can even play along. A USB audio recorder is built into the piano, as is a MIDI song recorder that allows for up to 16 tracks of overdubbing. The CLP-695GP joins the rest of the models in the CLP-600 Series, including the CLP-625, CLP-635, CLP-645, CLP-665GP, CLP-675, and CLP-685. All offer high-quality sound, authentic touch and renowned Yamaha craftsmanship.
Yamaha Adds Flagship Clavinova CLP-695GP Grand to Market Leading CLP-600 Series Digital Pianos