Stephen Hough selects Yamaha CFX for Brahms and Schumann at London's famed Temple Church
Stephen Hough selects Yamaha CFX for Brahms and Schumann at London's famed Temple Church
Stephen Hough selects Yamaha CFX for Brahms and Schumann at London's famed Temple Church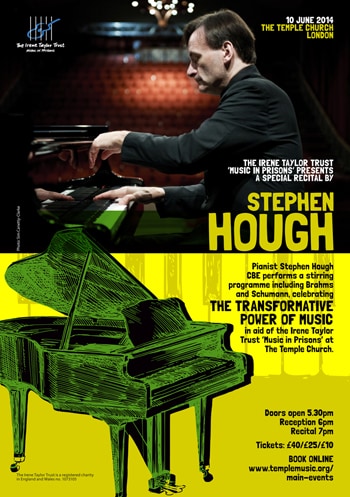 Stephen Hough is without question one of the most critically acclaimed and popular artists of his generation, having successfully combined a distinguished career as a concert pianist with those of a writer and a composer. In 2009 he was named by The Economist and Intelligent Life magazine as one of twenty living polymaths, joining prominent scientists, writers and unique individuals who have made exceptional contributions to humanity. Earlier this year he was appointed a CBE (Commander of the Order of the British Empire) in the Queen's New Year's Honours List.

Stephen recently performed on a Yamaha CFX in London's historic Temple Church to raise funds for a key charity of his, Music in Prisons, which promotes the transformative power of the arts to help rehabilitate people who have spent time in prison. Stephen performed works by Schumann and Brahms.

Commenting on the CFX Stephen said " I loved playing this CFX. It had both wonderful clarity and warmth of sound, but most of all I liked the way I could shape and mould phrases. Everything lay immediately under the fingers and then extended immediately to the imagination."

Stephen's association with Yamaha's flagship concert grand also extends to the recording studio. His latest CD, In the Night, was recorded on a CFX and he has recently completed a recording of Grieg's Lyric Pieces, which is due for release later this year. You can read a review of BBC Music Magazine's review of In the Night here.

Standing as a dramatic testament to the Knights Templar who built it, The Temple Church is one of London's most historically significant churches and has been a unique place of worship since the 12th century. More recently, the Church gained global prominence when it featured in Dan Brown's blockbuster novel and film The Da Vinci Code.
Stephen Hough selects Yamaha CFX for Brahms and Schumann at London's famed Temple Church