Biography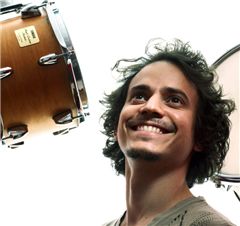 Dafnis Prieto´s arrival in the U.S has been compared by to that of an asteroid hitting New York.
Indeed, within a short period of time Dafnis Prieto´s revolutionary drumming techniques had a powerful impact on both tha Latin and Jazz music scene, locally and internationally. Having studied at the School of Fine Arts in Santa Clara as a youngster and later at the National School of Music in Havana, Prieto obtained a thorough classical education while broadening his knowledge of Afro-Cuban music, jazz and world music outside of the academy.
Various awards include "2011 MacArthur Fellowship Award", "Up & Coming Musician of the Year" by the Jazz Journalists Association in 2006, a Grammy Award Nomination for "Absolute Quintet" as Best Latin Jazz Album, and a Latin Grammy Nomination for "Best New Artist" in 2007. Also a gifted educator, Prieto has conducted numerous master classes, clinics, and workshops. Since 2005, he has been a member of the NYU Music Faculty.
At the age of 16 he already started touring Europe and Latin America with pianists Carlos Maza and Ramon Valle and later on with groundbreaking group "Columna B."
A resident of New York sind only 1999, he has already played in bands led by Henry Threadgill, Steve Coleman, Eddie Palmieri, Chico and Arturo O´Farrill, Dave Samuels & the Caribbean Jazz Project, Jane Bunnett, D.D Jackson, Edward Simon, Michel Camilo, Chucho Valdez, Claudia Acuna, Roy Hargrove, Don Byron and Andrew Hill among others.
As a composer, Dafnis has created music for dance, film, chamber ensembles and most notably for his own bands, ranging from duets to his "Small Big Band" and including the distinctively different groups featured on his four acclaimed recording as a leader.
Dafnis plays Yamaha Maple Custom Absolute Drums and Yamaha 800 series hardware.